Marine Biology Camp Staff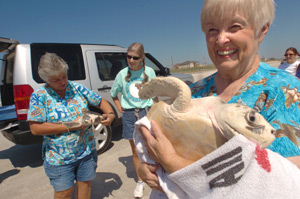 The Sea Turtle Camp team is comprised of expert Marine Science educators and an administrative staff who bring with them professional experience, in-depth knowledge and a broad range of skill sets. Sea Turtle Camp counselors are passionate about marine biology and the study of coastal ecosystems, and they are excited to share this passion with curious teenagers who have also discovered the importance and wonder of this field.
Employment at Sea Turtle Camp is extremely competitive. We examine hundreds of applications before selecting members of our elite team. All applicants must go through our intense three-part interview process and comprehensive background check. We take only the top candidates and are extremely proud to provide one of the greatest employment opportunities available among summer camps. Upon hiring, all counselors must attend our mandatory four day training and certification program prior to the start of each season. Required qualifications include American Red Cross certification in CPR for the Professional Rescuer and First Aid. Our founder, Jen Civelli, plays a fundamental role in the hiring and training of each team member. Jen is a chemistry instructor at Cape Fear Community College and UNC-Wilmington. She has spent many years working with Jean Beasley at the Sea Turtle Hospital, and she and her family continue to play a huge role in raising awareness and funds for this amazing organization. You can learn more about her on our Founders page…
Our mission statement of environmental conservation and philanthropy is deeply shared by our team. We are conscious of the fact that without the ocean there is no life on earth. We have dedicated our lives to educating teenagers about environmental conservation, living a lifestyle that is harmonious with this purpose and exploring new ways of sharing our mission.
We are currently in the process of hiring for our 2015 season but feel free to read below the quality of educators that join us every summer. We will update this page once our hiring process is completed so you can get to know you awesome educators!
Emily Rossi , Program Coordinator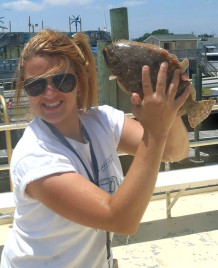 Emily joins us with a strong background in local marine habitats having grown up on North Carolina's Crystal Coast, just up the road from Wilmington. Emily credits her love of the ocean to her grandfather, who taught her to sail. In addition to being on a boat, you can find Emily on (or under) the water as she is an avid kayaker, wake boarder, and scuba diver. Emily experienced her first nest hatch at seven, and in the following years she dragged her very obliging parents to aquariums along the East Coast. She graduated with a B.S. in Environmental Biology and a minor in Biology from UNCW. She also spent a year abroad studying contemporary environmental managment in London. Emily has both research and education experience, having worked as a research assistant studying marine geology and as an educator for multiple NC Aquariums, the Museum of Life and Science, and Carolina Ocean Studies
Jenn Bahlman, Camp Director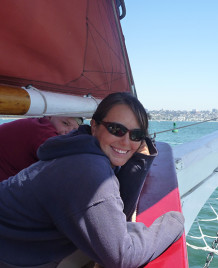 A school trip to the Marine Mammal Stranding Center near San Francisco, California at a young age marks the moment Jenn first fell in love with the ocean. She has been deeply drawn to it ever since and has refused to live away from it. Jenn grew up and volunteered with that same stranding network while earning a Bachelor's Degree in Marine Biology. After completing her Multiple Subjects Teaching credential, she taught 7th grade science in the classroom for a few years. After deciding that a more experiential approach to teaching was a better fit, Jenn completed her Master's Degree in Science Education and Environmental Education from the University of Washington. While in Washington, she worked at the Seattle Aquarium and IslandWood's Outdoor School. Jenn has worked at several non-profit education centers all along the west coast, including Pacific Science Center, Ventana Wildlife Society, Return of the Natives in California, and even aboard a tallship out of Catalina Island, California. During the school year, she teaches at an Outdoor Science School in Malibu, California. Jenn is excited to come to the East Coast and explore all that it has to offer.
Carlena Johnson, Camp Director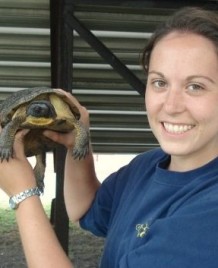 Carlena's passion for biology and wildlife conservation started in elementary school, and has continued to grow. A high school trip to Costa Rica gave her the opportunity to volunteer with a sea turtle conservation program, and solidified her desire to be involved in biological research and conservation. While working on her biology degree from Hartwick College, Carlena completed an undergraduate thesis investigating the effects of environmental contaminants on tail regeneration in salamanders. This fostered a further love of herpetology and amphibian and reptile conservation continues to be an area that Carlena focuses on. After graduation, Carlena worked as part of a long-term conservation project for Blanding's turtles in the Hudson Valley of New York. She monitored a small population of these threatened turtles and studied their use of a range of habitats, including natural and constructed wetlands. For the last few years she has worked on variety of projects concerning the ecology and genetics of metamorphic and non-metamorphic salamanders as part of her graduate school research at the University of Kentucky. She is very excited to return to issues of sea turtle conservation this summer!
Becky Funk, Camp Assistant Director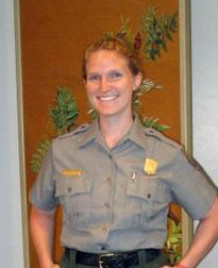 Being born and raised in the mountains of West Virginia and Maryland didn't hinder Becky's love for the ocean, as she developed a love for the marine environment early on. In 2010 she graduated from West Virginia University with a B.S. degree in Wildlife and Fisheries Resources and headed to the coast. After working on the Chesapeake Bay for several years with the US Fish and Wildlife Service as well as the National Park Service, she migrated south with the turtles to Jekyll Island off the coast of southern Georgia. There she worked at the Georgia Sea Turtle Center (GSTC) providing educational programs and outreach opportunities while assisting with the rehabilitation of several turtle species. Through the GSTC, Becky also got the chance to travel to the island of St. Kitts to volunteer with the WIDECAST Leatherback Sea Turtle Program. Most recently, Becky has been working at the Jekyll Island 4-H Center to teach students from across the Southeast about costal ecology and conservation. She's looking forward to a summer full of turtle time and new experiences on the Carolina coast.
Alden Picard, Assistant Campt Director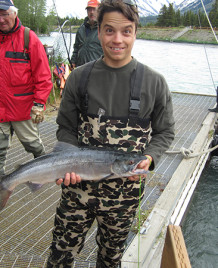 Fascination with the natural world began at a young age for Alden as he spent his free time exploring the wilderness of Falls Lake, NC in his back yard! Alden has traveled all over the United States gaining a deep respect for nature from a summer spent salmon fishing in the heart of Alaska's wilderness to working with coastal projects on the Carolina coast. He is a graduate from Warren Wilson College in Asheville, NC where he earned a degree in Environmental Studies, a concentration in Environmental Education, and a minor in Outdoor Leadership. At college, he was a leader for EcoTeam, an environmental education program designed to connect 3rd graders to the natural world through in-class experiential education. From there, Alden's passion for teaching and the North Carolina coast merged while working as an education intern for the North Carolina Coastal Federation. Alden took his knowledge of the coast with him to Tybee Island where he has spent the last year as instructor for the Burton 4-H Center. After an incredible summer working with passionate youth and sea turtles, Alden will begin his Masters of Environmental Studies at the University of North Carolina Wilmington.
Nathan Goldschmidt, Marine Education Specialist
Nathan hails from Redmond, Washington where he developed an early interest in marine biology as a kid exploring the diversity of tidepools and fishing with his family in Puget Sound. His interest in marine science continued to grow and he later went on to study marine biology at Western Washington University in Bellingham. As a student, Nate had the opportunity to study tropical marine ecology in La Paz, Mexico where he was able to study an amazing diversity of marine life. While here, Nate also learned about grassroots sea turtle conservation efforts being implemented along the Baja peninsula and how important these efforts are for the protection of sea turtle populations. After graduation, Nate switched coasts and started work as a marine science instructor at the nonprofit Newfound Harbor Marine Institute on Big Pine Key, FL. It was during this job that he learned how rewarding it is to educate students about the importance and fragility of the marine environment. It is this knowledge that Nate is eager to share with the campers in the Sea Turtle Camp summer programs.
Taylor Tvede, Marine Education Specialist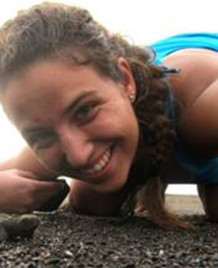 Taylor grew up in Albuquerque, New Mexico where her only initial contact with the ocean was a few trips to the West Coast when she was little. That proved to be enough. The ocean hooked her with its wonder and she's been working toward a degree in marine science ever since. She graduated from Cornell College in 2013 with a B.A. in Biology and Environmental Studies. During her time at Cornell, Taylor was able to travel to Costa Rica to learn about sea turtle conservation and help with research, the Bahamas to study coral reef ecosystems and their habitat interactions, and Israel to band and collect data on migratory bird species. Taylor was also a student athletic trainer for Cornell's athletic department, which has complemented her future career aspirations. While learning how to properly care for, prevent, and rehabilitate athletic injuries, Taylor realized that she could combine her concern for animals with her interest in medicine. It is with this passion for animal rescue and rehabilitation that she hopes to provide care for marine animals someday, starting with a summer at Sea Turtle Camp.
Aimy Thorsen, Trip Leader Hawaii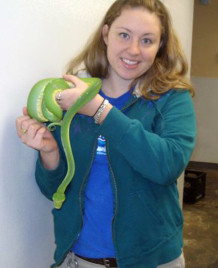 Aimy graduated with her marine biology degree from Texas A&M at Galveston in 2008. She has been a Biologist and the Education Coordinator of the Kemah Aquarium for over the past 3 years where she gets to both teach and dive in their exhibits. Other experiences Aimy has had include volunteering at the NOAA Sea Turtle Barn, Texas Marine Mammal Stranding Network, and interning at the Dolphin Research Center in the Florida Keys. She loves the ocean and could spend any given day at the beach, scuba diving, or surfing. Aimy has her teaching certificate in science for grades 4-8, and has begun teaching middle school science. She challenges her students to make a positive impact in the worl around them. Although she adores all animals she is especially drawn to reptiles. Working with others who are passionate about our marine resources, the environment ,and animals is a must.
Chris Powell, Trip Leader Hawaii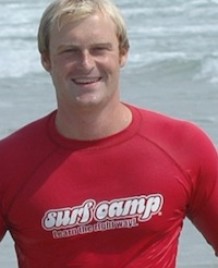 Chris's passion for the ocean has been nurtured through 24 years of vacationing at Topsail Island, one of North Carolina's popular sea turtle nesting beaches. Chris has demonstrated a passion for sea turtle conservation by working with Jean for two summers at the Karen Beasley Sea Turtle Hospital. During his internships, he enjoyed educating the public and students about sea turtles and broad environmental issues during the daily hospital tours (averaging about 350 people a day). Having grown up around the Chesapeake Bay, Chris is also aware the myriad issues affecting water quality. When it came time for Chris to earn the rank of Eagle Scout, he chose a project to educate the public about the environmental impacts from dumping yard waste and trash down storm drains into the bay. These experiences led him to attend UNCW and to graduate with a degree in Environmental Studies. Chris splits his residency, spending winters in the mountains and summers at the beach. He is a past Sea Turtle Camp Director, and has lead numerous trips for students in both Hawaii and Costa Rica for WB Surf Camp.
Stefanie Jansson, Trip Leader Costa Rica
Stefanie graduated from UNCW in 2010 with a degree in Marine Biology and a minor in Spanish. Sea turtles are one of her favorite marine animals, and she has been fortunate enough to have worked with them as an intern at the Karen Beasley Sea Turtle Hospital. She also completed a directed individual study at Figure Eight Island as a sea turtle nest monitor. As a marine educator, she has really enjoyed sharing her passion for marine science with others. In addition to work done at the hospital, she has volunteered with Fort Fisher Aquarium's education department, where she educated visitors about the animals in the exhibits. She also worked in education as an instructor at Carolina Ocean Studies taking school groups out to Masonboro Island on a boat or facilitating off-shore fishing trips. Stefanie is a past Director for Sea Turtle Camp, and during the rest of the year, she works as an observer on fishing boats, protecting many animals, including sea turtles. She is currently looking into graduate programs that focus on marine science.
Rachel Miller, Trip Leader Costa Rica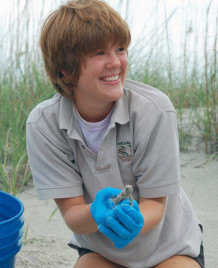 Rachel is from Midlothian, IL and fell in love with marine science early after a visit to Shedd Aquarium in Chicago. She graduated in December 2011 from Coastal Carolina University in Conway, SC with a Bachelor of Science in Marine Science and minors in Biology and Spanish. Rachel worked as a summer naturalist at Myrtle Beach State Park and was introduced to environmental education and sea turtle conservation during the summer of 2011. In March 2012, Rachel had the opportunity to intern for six weeks at Island Dolphin Care in Key Largo, FL providing dolphin assisted therapy for children with special needs. Last summer, Rachel worked as an Assistant Director at Sea Turtle Camp and is returning this summer as one of the leaders of the Costa Rica trip. She is currently working on her Master of Science in Environmental Education at Florida Institute of Technology in Melbourne, FL.
Joshua Cassell, Scuba Camp Instructor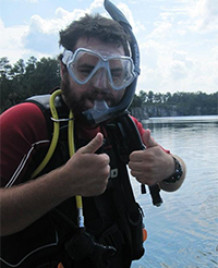 Josh returns to us from last summer as a marine education specialist and scuba camp trip leader. He is currently finishing his degree at the University of North Carolina at Greensboro, pursuing a B.S. in Biology. Growing up Josh always loved wildlife and enjoyed it through maintaining aquariums. He loves spending time outdoors searching for wildlife and has even had an opportunity to apply this passion with a project through the state of North Carolina. He participated in a bog turtle study and got to spend days tromping around in bogs collecting data on the great animals in the Appalachian Mountains. He's also kept many reptile species throughout the years and his favorite native reptile is the common snapping turtle. Other pursuits he enjoys are hiking, rock climbing, fishing, and the occasional carpentry project.
Liz Quirk, Scuba Camp Instructor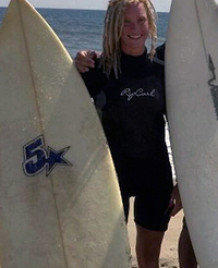 Liz was born and raised outside of Boston, MA where she spent her early summers both at the shore and in the chilly ocean off New Hampshire. Her love of the ocean (and warm weather) brought her to the Carolina coast at the age of 18. Since then Liz has been working on her Special Education major at UNCW and teaching field trips on Masonboro Island in the spring and fall with Carolina Ocean Studies. In her spare time she volunteers at the Fort Fisher Aquarium, can often be found out in her garden, surfing, or bouncing on her trampoline! Time spent outdoors is never wasted! Liz has been fortunate to surf and dive in countries such as Costa Rica, Honduras, and Panama. She has a strong passion for educating children as they are the future decision makers for our country and our planet. When not having a blast with the scuba campers, she will be building a school garden for Island Montessori this summer. She is eager to share the amazing experience of scuba diving with students during the summer.