Overview
Marine Biology Advanced Scuba Camp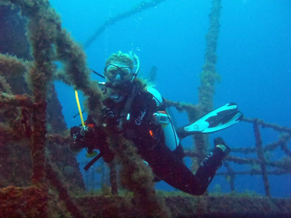 The waters off the North Carolina coast provide the perfect opportunity to further develop your scuba diving skills during our Advanced Open Water Camp. This sea turtle program is designed for teens who already have their Open Water certification and are looking for a new undersea challenge while working with sea turtles at the hospital. Your week will combine working with these special creatures and slipping below the waves to explore the sunken shipwrecks of the east.
Return to the undersea environment and develop different skills with new and exciting dive opportunities. There is very little classroom time, as we spend most of the course practicing skills in the water on the multiple charter trips with twelve total dives. This program is designed to refresh and build on past skills while establishing new proficiency in underwater navigation, peak performance, and deep water dives. We'll even get to experience the nocturnal environment on a night dive, allowing you to see animals that were previously dormant. The Advanced Diver course is a perfect way to spend your time when not at the Sea Turtle Hospital.
This adventure is designed for teens ages 13-17 who are passionate about sea turtles and the marine environment. SCUBA diving is not only a lifelong passion for so many ocean enthusiasts – it is a door-opening necessity to the world of marine biology research.Join us on this adventure as we:
Work with turtles at the Karen Beasley Sea Turtle Rescue and Rehabilitation Center
Search for turtle nests during nest walks
Explore the salt marsh while clamming, seining, and crabbing
Learn about oceanography
Discover sound side habitats
Complete an Advanced Open Water Certification which includes up to 12 total dives: 4 confined lake dives and 8 open ocean dives
Participate in a Nitrox Certification for safer diving
Dive multiple locations of the renowned Graveyard of the Atlantic which may include: Hyde, Markham, Liberty Ship, Socony, Pocahontas or Stone Tug
Search for megalodon teeth while diving the famous Sharks Tooth Ledge
Receive advanced navigation, search and recovery, and night dive training
Earn twenty hours of community service credit
Camp tuition includes: lodging, all meals from dinner on the first day to lunch on the last day, 24-hour same-gender adult supervision, admission to all activities, all equipment, professional scuba instruction, transportation including pickup and drop off from the Wilmington International Airport (ILM), Sea Turtle Hospital donation, community service certificate, Sea Turtle Camp t-shirt, and memorable group photo. Campers are responsible for round trip airfare to ILM or transportation to Wilmington and additional money for snacks and souvenirs.
Students must currently possess an Open Water dive certification to participate.
There are no Marine Biology Advanced SCUBA sessions for summer 2016.
Itinerary
Itinerary
Days 1 – 2
Your arrival to the beautiful North Carolina coast is met with the anticipation and enthusiasm of your fellow campers as you prepare to become Advanced SCUBA divers and immerse yourself in the marine biology world. At orientation, all rules and structure for the week will be explained by your counselors, who are equally as excited. Then it's off to dinner and evening activities where we will spend time getting to know each other, becoming a marine biological family. Afterwards, we'll head to our bunks, so that we are well rested for the next days activities! Following breakfast, we'll head out for a day of marine biology fun as we explore the salt marshes and learn more about one of our favorite marine animals, the sea turtle.
Days 3 – 4
After a quick refresher on skills learned in the Open Water course, we'll dive into the new material. Most of this course is taught in the water not in the classroom. We'll start with a charter trip, where you will be in awe of the incredible amount of life that exists in and around this artificial habitat. Using your compass, you will navigate around the underwater structure while being mesmerized by fish and marine life of all shapes and sizes. When not under the waves, we'll be exploring the beaches for turtle nests and gaining a better understanding of the animals that are able to live in between the tides. After a day of diving activity and a big dinner, we'll need to recharge for the upcoming final days.
Days 5 – 6
We wake up early to prepare for the Search and Recovery portion of our training. We'll also work on our navigation skills while under the lake's surface. Then we'll be prepared for a truly epic adventure during a night dive. We'll have the opportunity to see all the nocturnal animals that were dormant on our earlier dive. After such an incredible adventure, it will be difficult to fall asleep, but somehow we'll manage.
Days 7 – 8
Following the tides, we'll travel south to Kure Beach to the only naturally occurring intertidal ecosystem in North Carolina – the coquina outcrop. After exploring this ancient sandstone reef, we'll tour the exhibits of the NC Aquarium. Then it's back to the hospital. One of the greatest aspects of Sea Turtle Camp is that by doing what you love, you are giving back while accumulating community service/service learning hours. During your time at the hospital you will learn feeding habits, nutrition, cleaning, water filtration, and much more while discovering the unique personality of each sea turtle. Another way we give back is through daily beach sweeps to inspire others to keep our oceans free of life threatening trash and plastics. Prepare for a long night, because after dinner we search for nesting mothers, while enjoying the bioluminescence that sparkles along the shoreline.
Days 9 – 12
The alarm sounds early, but it's a big day, so you barely register that. We rise to potentially witness one of the coolest sights for a sea turtle lover: fresh tracks in otherwise unmarked sand. A fresh turtle crawl! Our search is followed by an exciting adventure when we take a surfing lesson! With the professional instruction of our parent company, WB Surf Camp, we will build our confidence and learn to enjoy and ride the waves that dolphins and sea turtles have been enjoying for millennia. After a day on the beach, you'll be ready to cool off under the waves in the Advanced Scuba portion. After another day of marine biology exploration, it will be time to get our dorms cleaned and packed up. After breakfast we will begin to say farewell and exchange contact info from our new friends as parents arrive and airports runs are made. Time to start planning for next year's Sea Turtle Camp adventure.
Pictures
Pictures
Marine Biology Scuba Camp
Click on any picture below to enlarge.
Activities
Overnight Marine Biology Camp Activities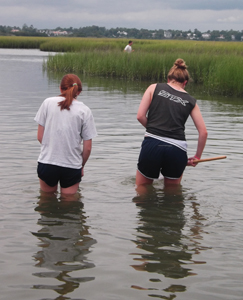 Coastal North Carolina is surrounded by rich marine ecosystems that countless aquatic species call home. From the expansive Atlantic Ocean, with its miles of white sand beaches on barrier islands to the fluctuating and dynamic salt marsh habitats, Sea Turtle Camp gives you the opportunity to explore and study these amazing ecosystems in depth. We strive to provide teenagers with the opportunity to learn more about marine biology and conservation through hands-on, feet-wet experiential educational. Campers get the extraordinary opportunity to work with live sea turtles as well as participate in some amazing daily activities designed to teach them through experience instead of out of a textbook.
During this amazing adventure you will:
Volunteer at the Karen Beasley Sea Turtle Rescue and Rehabilitation Center
Search for turtle nests during nest walks
Participate in night time sea turtle nest/hatchling watch
Take a Natural History Tour of the NC Aquarium
Understand salt marsh and wetland sustainability
Study Floating Dock Ecology
Learn Sandstone Ecology
Study Dune Ecology
Learn ocean and wave dynamics
Earn Advanced Open Water Diver Certification
Earn fifteen hours of community service credit
Lodging
Lodging
While at camp, students will be staying in the heart of the sea turtle action on Topsail Island. Pronounced Tops'l by the locals, this 26-mile long, quarter-mile wide barrier island has a rich history filled with pirates, fishermen, and surfers. Since Topsail Island is one of the less developed barrier islands in the area, groves of maritime forest still dot the island and are rumored to hide Blackbeard's treasure. Nowadays, Topsail is known as a laid-back beach town and a sanctuary for sea turtles.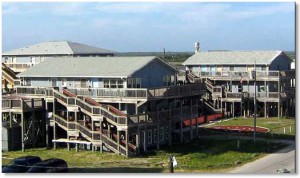 NEW FOR 2016
Campers will be housed in fully furnished retreat center with an ocean view and beach access just a few feet away. This is an ideal location, as we will only be steps from our outdoor classroom. Students will see the sun rise over the ocean during morning nest patrols.
Students will enjoy dining together in our very own dining hall.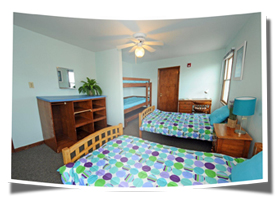 The rooms are gender-specific and feature air-conditioning, comfortable common areas, and gender specific bathrooms. Each participant will have his or her own bed. Sea Turtle Camp staff members are housed on-site and will provide 24-hour, same gender adult supervision.
Campers will not only enjoy the breathtaking sunsets from the decks of the Retreat Center, but also private beach access, game rooms, campfires and outdoor activities such as volleyball, corn hole, basketball and much more.
Now that we are only minutes from the Karen Beasley Sea Turtle Rescue and Rehabilitation Center and beach, we can have a more active role in providing care to the turtles at the hospital and assisting the Topsail Beach Nesting Patrol. More hands-on opportunities and nest watching means more fun for the campers!
.
Reviews
Reviews
Chelsea from Brielle, NJ – "I had the time of my life at this camp! I made great friends and I'm never going to forget how cool everything was. The counselors were amazing, too. Our dive instructor, Frank, was really helpful because he had good ways to remember important information about scuba diving. It was an awesome experience. We were always busy doing something insanely cool, and it was an experience of a life time. I made amazing friends that I still talk to, and I would recommend this camp to anyone!"
Xavier from Newark, NJ – "I had a teriffic time and made lots of new friends along the way. I also learned alot about sea turtles and about what can be done to prevent future injuries to them."
Lissette from Charlotte, NC – "My camp experience changed my life. Between the amazing counselors, how much we learned, and the friends we made, I couldn't ask for more. Jamie and Leah made us feel at home, and I learned more than I ever thought about the ecosystem and how our environment needs help. Having the experience to work with Jean and the turtles at the hospital really touched my heart and reinforced my desire to want to work with these animals. The friends I made, I still talk to every day and know we will be friends for life. I was so lucky to be able to be a part of this camp, and I'm so grateful."
Elizabeth from Durham, NC – "This is the best camp I have ever been to! I had so much fun and learned alot too. "
Lia from Yardley, PA – "I enjoyed everything about camp. I was able to make new friends that had the same interests as me. The counselors were very nice and relaxed. Andre was the most precise scuba instructor I have ever had. I enjoyed every moment and wouldn't have asked for a better time. My favorite part was going to the hospital and taking care of the inhabitants living there. It opened my eyes that the reason why most of them are there is because of what we humans do directly and indirectly. It showed me that some people are unaware of threatening a species to the brink of extinction. We need to educate the public of the harms that we have created for these gentle creatures. I believe that we will accomplish what needs to be done if we have the inner strentgh and will to fight back."
Craig from Alplaus, NY – "Most amazing thing I have ever done, I learned a ton and had a blast while doing it. I would do it all again in a heartbeat. I cannot wait to go scuba diving again. I will use all that I learned for the rest of my life. I am very hooked on surfing, SUP, and diving because of this camp. I have wanted to become a marine biologist for many years, and this camp convinced me that I have made the right choice regarding my future occupation. This camp has shown me that my love of the ocean and its inhabitants burns deeply within. "
Hana from Minato-ku, Tokyo, JAPAN – " Sea Turtle Camp made this one of my best summers. I had so much fun learning about diving and working with the sea turtles made it an experience I could never forget. Also having the time to hang out with the other campers also created a friendship that will last forever. In all, this was the best camp I've been to and I will come back despite the fact that I live in Japan.
Kayla from Painted Post, NY – "Nothing can compare to giving a turtle a back rub and watching it dance!"
Sofia from Rye, NY – " I thought the camp was fantastic! I give it an 11 out of 10. I met so many new people that I will always remember. The camp was a very comfortable environment, which was especially important for me since I have never been to sleep away camp before. All the counselors were also very nice and always encouraged you to keep trying and working. I loved this camp so much and I was sad to leave.
FAQs
FAQs
Do I get to see real live sea turtles?
YES!!! We work very closely with the Karen Beasley Sea Turtle Rescue and Rehabilitation Center who have an average occupancy of about 20 sea turtles with varying degrees of injury or illness. Some are even permanent residents due to the severity of their injury. The NC Aquarium usually houses a few behind the scenes and from time to time we even see them out in the ocean.
What kind of community service will I be doing?
At Sea Turtle Camp service is the most rewarding part of our program, and we like to think of it as service learning. Everything we do at the Karen Beasley Sea Turtle Rescue and Rehabilitation Center, from working directly with live sea turtles, cleaning, and feeding sounds more like enjoyment than service, but it is.
Do I need to have scuba diving experience?
Yes, to participate in this program you will need to already have your Open Water certification. We will be working on the NAUI Advanced Open Water skills which include deeper dives, navigation, and night dives, so previous Open Water training is necessary, though it doesn't have to be a NAUI Open Water certification.
Should I bring a friend?
While most of participants come alone, you are welcome to come with a friend.
How old are the campers I will be rooming with?
Roommates are grouped together by age in order to enhance the overall level of comfort.
I am a finicky eater. Can you cater to special diets?
Yes we can. We know how important it is to eat healthy meals when you are outside and at the beach all day long. We'll ask you in a questionnaire what types of food, snacks, and drinks you prefer.
What do I need to bring?
A complete packing list will be included with your informational registration packet.
What sort of payment do you accept?
We accept checks, money orders, or VISA/MC/AMEX credit cards. All credit card payments are processed online using a secure server. There is a $50 service charge for all returned checks. With the exception of the trip deposit, a 3% credit card surcharge will be assessed to all payments made by credit card. Please review our cancellation policy. Deposits are not refundable after acceptance into a program.
What airport is best to fly into for your program, and do you provide a shuttle service?
The best airport to fly into is the Wilmington International Airport (ILM), which is located a short drive from the KOA campground. Our educators meet all participants at baggage claim. The shuttle cost to and from this airport is included in program tuition.
What if I can't get in by the set check in time?
Please contact our Program Coordinator to discuss arrivals and departures outside of our preferred times. In order to avoid missing any planned activities, participants should try to arrive around 1 pm on the first day and depart around 10 am on the last day of camp.
What if my luggage doesn't make it?
Occasionally the airlines will misplace luggage or your suitcases will miss connecting flights. We recommend keeping essentials, such as medications, toiletries, bathing suit, and extra change of clothes, in their carry-on luggage just in case.
What is your cancellation policy?
Sea Turtle Camp is an extremely high quality, tight margined program, with limited space. Therefore, once your student has been accepted into the program, exceptions to this policy cannot be made for any reason, including weather or personal emergencies. Please review the terms of our cancellation policy. In order to enroll in camp you must agree to these terms.
Do you have insurance?
We carry a comprehensive insurance package, including general liability.
How much spending money should I bring?
We recommend campers bring $50 to $75 per week of camp. This is for snacks, souvenirs or gifts you wish to purchase while at camp.