Overview
Marine Biology Immersion – North Carolina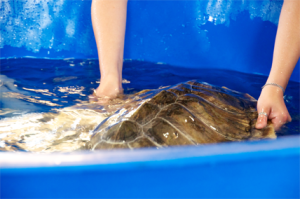 Sea Turtle Camp is located in the warm-water beach town of Topsail Island, North Carolina. During this eleven day program, you will develop an appreciation and respect for our oceans that will remain with you for a lifetime. Join teens from all over the world as we immerse ourselves in the care of sea turtles and explore the habitats that support them. In addition to all of the volunteer work, we will also research, prepare, and present a lesson to the public describing the challenges facing all sea turtles.
This camp spends 15 hours working alongside the hard-working volunteers and interns of the Karen Beasley Sea Turtle Rescue and Rehabilitation Center. Since the Sea Turtle Stranding and Salvage Network began keeping records in 1986, the number of stranded turtles has more than doubled, illustrating how much work there is to be done. When not preparing food or cleaning tanks, we will discover the wonders of our local coastal habitats from the muddy marsh bottom to the crest of breaking waves.
This camp is designed for students, ages 13-17, who are passionate about sea turtles and the marine environment. Join us on our next adventure as we:
Participate in rehabilitation at the Karen Beasley Sea Turtle Rescue and Rehabilitation Center
Search for turtle nests during nest walks
Explore the salt marsh and learn its vital role in the food chain
Tidepool in North Carolina's only natural rocky outcrop
Become an Aquarist at the North Carolina Aquarium
Conduct marine sampling trawl aboard a research vessel
Study sea turtle necropsy and physiology study
Study marine debris in the Sargasso Sea and other ocean gyres
Earn twenty five hours of community service credit
Due to our commitment to personal instruction, group sizes will be limited to 12 students per camp. This guarantees that everyone has the best experience possible.
Camp tuition includes: lodging in suites on Topsail Island, all meals from dinner on the first day to lunch on the last day, 24-hour same-gender adult supervision, admission to all activities, all equipment, transportation including pickup and drop off from the Wilmington International Airport (ILM), Sea Turtle Hospital donation, community service certificate, Sea Turtle Camp T-shirt and memorable group photo. Campers are responsible for round trip airfare to ILM or transportation to Topsail Island and additional money for snacks and souvenirs.
Tuition: $2895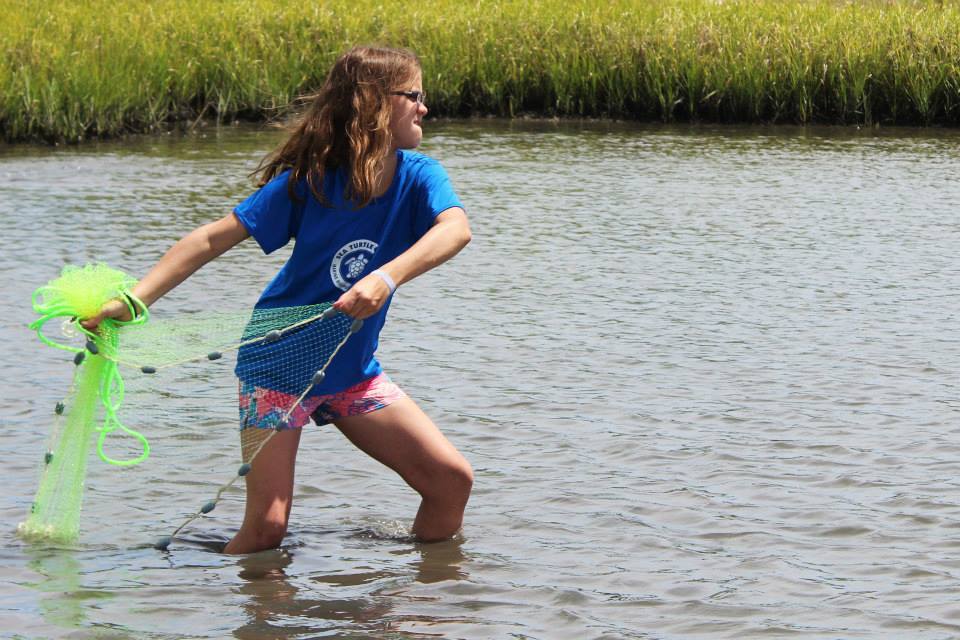 2016 Marine Biology Camp Dates:
June 26-July 6 CLOSED
July 17-27 CLOSED
Click Below to Sign Up!
Returning Families Enroll Here
Itinerary
Itinerary
Days 1 – 2
Your arrival to the beautiful North Carolina coast is met with the anticipation and enthusiasm of your fellow campers; now you will have the opportunity to see and interact with real live sea turtles! Not only will you be working with and learning from them, but you will be aiding in the rehabilitation and release of one of the oldest living creatures on the planet. We rise to potentially witness one of the coolest sights to sea turtle lovers: fresh tracks in otherwise unmarked sand. The mother comes lumbering out of the sea at night, lays her eggs in a trance, and then returns to the water. Following the search, we learn the ropes of turtle rehabilitation at the Karen Beasley Sea Turtle Rescue and Rehabilitation Center.
Days 3 – 4
We'll start the day off with an action-packed adventure during our surf lesson. This is probably the most exciting way to learn about physical oceanography. Following the tides, will pile out of the van and onto a habitat that exists solely in Kure Beach – the only naturally occurring intertidal rocky outcrop in North Carolina. This ancient sandstone reef extends out from the beach and is home to specific marine species like sea liver, sea anemones, stone crabs, and who knows what else?! It's a fun area to explore on our way to becoming aquarists at the North Carolina Aquarium. Next we'll learn more about the anatomy and physiology of sea turtles from a specialist. After her presentation, she will walk us through an actual sea turtle necropsy to officially catalog and record what happens when one of our favorite creatures washes up and doesn't make it.
Days 5 – 6
We're up early again and ready to climb aboard a research vessel. We'll have an even better opportunity to explore the estuarine habitats as we take a research vessel towards the mouth of the Cape Fear River. Onboard we'll sample different inhabitants as we learn about diversity, classification, and identification. This is a camp highlight, and not to be missed! From pristine to polluted, our next stop is the county landfill, where the impacts of human existence are very apparent. All consumer-driven waste is put here, where it remains, sometimes forever. Another way we give back is through beach sweeps to hopefully inspire others while keeping our oceans free of life threatening debris. Today we'll meet a special friend who has actually been out in the gyres documenting the harmful effects of plastics adrift in the ocean. This human inflicted problem will alter how you see the world and inspire you to be part of the necessary change.
Days 7 – 8
We'll start the morning off right with more work at the hospital. By now you've probably started recognizing the unique personalities of each turtle as you work closely with the interns and volunteers at the hospital. After lunch we will take time to get out and explore the salt marshes of coastal North Carolina. These are the vital nurseries and filters for the greater ocean. Many juvenile species of marine life grow here and filter feeders work diligently to remove toxins from our ecosystem.
Days 9 – 11
The day may start with a morning walk in search of a nest. Sometimes sea turtle nests must be relocated to protect from humans, wildlife, beach traffic, lights, or tidal encroachment. It is a last resort but you may get the chance to learn how it's done before even getting to the hospital for another day's work. Next, we'll explore the salt marsh again. Here we are able to spot various species of herons and egrets stalking small fish and crabs amongst the cordgrass. On our final night, we'll begin our goodbyes… until we return to Sea Turtle Camp next year.
Pictures
Pictures
Marine Biology Immersion
Click on any picture below to enlarge.
Activities
Overnight Marine Biology Camp Activities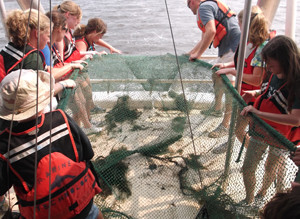 Coastal North Carolina is surrounded by rich marine ecosystems filled with countless aquatic species. From miles of white sand beaches to fluctuating and dynamic salt marsh habitats, Sea Turtle Camp gives you the opportunity to explore and study these amazing ecosystems. We provide teenagers with the opportunity to learn more about marine biology through hands-on, feet-wet experiential educational. Campers get the extraordinary opportunity to work with live sea turtles as well as participate in some amazing daily activities designed to teach them through experience instead of out of a textbook.
During this amazing adventure you will:
Volunteer at the Karen Beasley Sea Turtle Rescue and Rehabilitation Center
Learn Sea Turtle Necropsy
Conduct sea turtle nest walks
Participate in night time sea turtle nest/hatchling watch
Conduct trawl sampling Trawl aboard a research vessel
Become an Aquarist at the NC Aquarium
Understand salt marsh and wetland sustainability
Study Floating Dock Ecology
Learn Sandstone Ecology
Explore unspoiled stretches of beach on Bear Island
Observe seminars on sea turtles with guest speakers
Study Dune Ecology
Visit the county landfill and WASTEC Tour
Learn ocean and wave dynamics through surfing lessons
Earn twenty five hours of community service credit
Lodging
Lodging
While at camp, students will be staying in the heart of the sea turtle action on Topsail Island. Pronounced Tops'l by the locals, this 26-mile long, quarter-mile wide barrier island has a rich history filled with pirates, fishermen, and surfers. Since Topsail Island is one of the less developed barrier islands in the area, groves of maritime forest still dot the island and are rumored to hide Blackbeard's treasure. Nowadays, Topsail is known as a laid-back beach town and a sanctuary for sea turtles.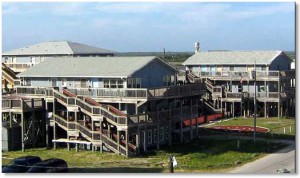 NEW FOR 2016
Campers will be housed in fully furnished retreat center with an ocean view and beach access just a few feet away. This is an ideal location, as we will only be steps from our outdoor classroom. Students will see the sun rise over the ocean during morning nest patrols.
Students will enjoy dining together in our very own dining hall.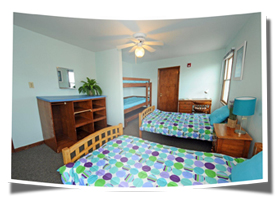 The rooms are gender-specific and feature air-conditioning, comfortable common areas, and gender specific bathrooms. Each participant will have his or her own bed. Sea Turtle Camp staff members are housed on-site and will provide 24-hour, same gender adult supervision.
Campers will not only enjoy the breathtaking sunsets from the decks of the Retreat Center, but also private beach access, game rooms, campfires and outdoor activities such as volleyball, corn hole, basketball and much more.
Now that we are only minutes from the Karen Beasley Sea Turtle Rescue and Rehabilitation Center and beach, we can have a more active role in providing care to the turtles at the hospital and assisting the Topsail Beach Nesting Patrol. More hands-on opportunities and nest watching means more fun for the campers!
Reviews
Reviews
Anna from Bloomington, IN – " This was one of the greatest experiences of my life. I cannot express in words how much I loved this camp! I am now more knowledgeable about the world around me and myself, and I am now motivated to make our planet a better place for sea turtles and all other animals. Not only did I learn a lot, but I met the most amazing people who I know I will be friends with for many years. Sea turtle camp 2012!! SHAKA."
Alex from Easthampton, MA – "I increased my awareness of what the human impact was to sea life. It made me want to help even more. My favorite part of Sea Turtle Camp was seeing a loggerhead lay a nest. It was amazing to see and I'm so glad we got the chance! I thought the camp would focus only on sea turtles. However, along with sea turtles we learned so much about other animals and plants in the ocean. The counselors had answers to all our questions. I learned so much more than I ever thought I would and I will definitely recycle more and pick up trash every time I see it! I made so many friends and had an amazing time."
Bailey from Charlotte, NC – "I had an amazing time and it was so hard to leave. I literally could live at camp. I came hoping it would help me decide between two career paths and I definitely have a better idea of the careers involved in marine bio. The fact that I got to work up close and personal with the turtles. I also really like how we would learn something and then go experience it hands on. I already loved the ocean and sea turtles before camp, but after camp I loved them even more. Our camp group formed a family. Amazing camp and I will try my hardest to come back!"
Allison from Pittsburgh, PA – "Before coming to this camp, I, as a rising senior, was not entirely certain what I wanted to do with the rest of life. However, my counselors were such great role models and teachers, and really helped me realize what I wanted to do in college and post-college. I feel better prepared for biological and environmental classes I will be taking in college. I feel confident that I will be able to perform in higher level classes because of this camp. My instructors also helped me develop my own opinions about the world and grow as an individual into a better human being. They continue to support me in my future endeavors and I appreciate all that they and Sea Turtle Camp have done for me."

Kristin from Rockville, MD – " Sea Turtle Camp at Topsail Island was one of the most amazing experiences of my life. I made amazing friends and always felt at home with the other campers. Our room was unbelievable. I expected a dorm room, but having a kitchen and bathroom was so nice and convenient. The activities were so fun! It was nice to not only work with sea turtles, but to have other marine biology related activities as well. Family time was nice to have at night because it was an opportunity to reflect on the highs and lows of our day. It strengthened the bond of our group. The counselors were always enthusiastic and knowledgeable. I learned much more than I thought I would about sea turtles and other things such as dunes, sea shells, tides, oysters, trash, etc! If I had the opportunity to go back to sea turtle camp I would do it in a heartbeat. Sea Turtle Camp has enhanced my love of nature in the most fun way possible. I would recommend it for anyone interested in marine biology. I loved this camp!!"
Bethany from Amherst, MA – "It was absolutely amazing!!!!! It was really cool to go the sea turtle hospital, the aquarium, the nests, and of course the beach!!! It was one of the best experiences of my life!!"
Emily from Harvest, AL – " I absolutely loved this camp! It was so much fun! My favorite part of Sea Turtle Camp had to be when we got to see the hatchlings go out into the ocean on the last night of camp! I loved everything that we did! Everyday had something new in store for us! I loved the family meetings that we would have at night! We would all come a little bit closer every time we were all together! I made so many new friendships that will last forever! The counselors were so much fun to be around! I loved how at this camp we could learn so much while having fun! When we did the outreach project at the Sea Turtle Hospital, I was amazed at how much information I had learned in such a short amount of time!"
Dana from Piscataway, NJ – "It was great to be there with people who cared about the path of marine biology and coastal sciences; I felt I had a great time with both campers and counselors. As Ms. Jean told us, this was my 'final nail' into building my interest and path to become a person in marine biology or coastal science. My favorite part of Sea Turtle Camp was the very last day we saw baby loggerheads being rescued and then released into the ocean before we had to pack up. It was the best moment of camp ever. At first I did not know very much about how critical the sea turtle population was and that it isn't going to get better very soon. During this experience I learned about all sorts of new things about coasts and islands and the life that inhabits them. After the camp I learned about what I can do to help."
Rachel from Dayton, NV– "I had a lot of fun at camp and made so many new friends. I have so many memories and learned so much. The instructors were always positive and new so much. It was an amazing experience. I now know that marine biology is definitely what I want to do. I had an amazing time at this camp. I made so many friends and memories. Working with the sea turtles was definitely life changing. The instructors were so nice and they knew a lot about marine biology. I would do this again in a heartbeat."
Erin from Brighton, TN – " Sea Turtle Camp was a great learning experience for me. I have always said I wanted to be a marine biologist but I never really knew anything about marine life. This camp was a great way for me to get a glimpse into what marine biology is. It taught me different things in a hands-on learning experience. I helped me to figure out if this is really what I want to do when I get older. My favorite part was learning how to SUP and surf and getting to work at the Sea Turtle Hospital. Camp also helped me make friendships. I met girls and guys from all over the country and two girls from Germany. I would love to come back to camp again or try a different session of Sea Turtle Camp. To say it simply, Sea Turtle Camp was one of the biggest highlights of this summer!"
Lilah from Warrenton, VA – "Sea Turtle Camp exceeded my expectations. I thought that it was going to be too educational, but it was a really fun way to learn. It wasn't dry and the activities were all very much fun! I can't choose favorites. Everything we did was a lot of fun. I have to say that the Plastic Seminar really touched me. The Surf lesson was probably the scariest thing I've ever done in my life and I really give it all to Billy who REALLY helped me through all of it and gave me strength to try and stand up!"
Katie from Beaver, PA – "I LOVED this camp. I enjoyed both instructors because they really made me feel at home. My favorite part was working with the turtles. I felt so good after seeing how I could help. I never knew that I would learn so much about the environment and sea turtles in just ten days. I will never forget the wonderful experiences and the great friends I had at this camp!"
Callie from Harmony, NC – "I loved everything! There wasn't one single thing we did that I would go back and change! My instructor knew every answer to every single question I had about the ocean/turtles. I knew I was going to have a great time, but it was even better than I expected. When mom came to pick me up, I wasn't ready to leave."
Molly from Newport, MN – "I absolutely loved this camp. It totally changed my future plans and I now want to go to UNCW and possibly even be a CIT next year for this camp if I am able too. I LOVED the Sea Turtle Hospital the most. It was truly a once in a lifetime experience and I wish I could work there for real. I also love the fact that I can now distinguish every single type of sea turtles from each other and rattle off facts about each one. I haven't stopped doing this and also talking all about Sea Turtle Camp since I got home. Everyone here in Minnesota can now tell a Kemps Ridley from a Loggerhead or a Green. It's awesome. I highly encourage anyone to go to this camp. I wanted to return the moment I got on my plane ride home!"
Frannie from Chapel Hill, NC – "I really enjoyed going to this sea turtle camp. One might think at the beginning that it might be too educational to be different from school but in reality it was one of the best camps I have ever been too. I was very satisfied with the variety of fun activities and the food! I had a great group of fellow campers and counselors. I hope I will be around next summer to be able to attend another camp session!
Emily from Medfield, MA – "I enjoyed Sea Turtle Camp so much! The counselors were friendly, the interns at the hospital were friendly, and our group of 10 campers became fast friends! I now know more about, want to learn more about and have a greater interest in marine biology and sea turtle conservation! I am definitely returning to spend another 11 days and see what new things I will learn and what new things I will experience! The memories will last me a lifetime!"
Joon Sung from Tenafly, NJ – "I learned the importance of ecological stability, such as conserving plastics, and the anatomy of green sea turtles. The staff members were so fun and energetic; they always had a positive attitude. They were also great marine biologists who knew what they were talking about. I loved the surf and paddle boarding lessons because both activities were a first for me. Also, the friends I have made at camp (including my counselors), I will never forget them. I hope to attend this camp again."
Lindsay from Holland, MI – "I didn't know a ton about marine biology and was very interested. I was thinking about it as a major for college and I am very confident with that decision now and you helped me out. Every other day we went to the hospital and worked with cleaning out the tanks and giving medications to the turtles. In the afternoon we would go to the beach or do dissections or concerts or SUP lessons. It was great, even the necropsy I didn't mind. A very good experience and I would love to be involved in it again.
Page from Topsail, NC – " I have the great privilege of volunteering at the Karen Beasley Sea Turtle Rescue and Rehabilitation Center on Topsail Island, and had the privilege of working with the Sea Turtle campers. What impressive groups! So polite, inquisitive, and willing to do anything that needed to be done. It was a real pleasure to spend time with them this summer. Looking forward to next year!"
Riley from Okemos, MI –" Sea Turtle Camp made me come home, stand on the end of the street, and hold up a sign that said world peace. Sea Turtle Camp is helping more and more future children taking baby steps in helping the world in world peace. I had the greatest time there and for future referen ce, I am absolutely going back to learn more!"
Tesia from Branchport, NY – "The presentation on the "Plastic Ocean" by Bonnie Montelone, opened my eyes to the great amount of trash in the ocean and how it greatly affects the marine life. I have now been informing others about recycling and buying less plastic products. Sea Turtle Camp secured my decision to major in Marine Biology in college and I am forever grateful that I got the chance to attend it. Thank you so much!"
FAQs
FAQs
Do I get to see real live sea turtles?
YES!!! We work very closely with the Karen Beasley Sea Turtle Rescue and Rehabilitation Center who have an average occupancy of about 20 sea turtles with varying degrees of injury or illness. Some are even permanent residents due to the severity of their injury. The NC Aquarium usually houses a few behind the scenes and from time to time we even see them out in the ocean.
What kind of community service will I be doing?
At Sea Turtle Camp service is the most rewarding part of our program, and we like to think of it as service learning. Everything we do at the Karen Beasley Sea Turtle Rescue and Rehabilitation Center, from working directly with live sea turtles, cleaning, and feeding sounds more like enjoyment than service, but it is.
Should I bring a friend?
While most participants come alone, you are welcome to come with a friend.
How old are the campers I will be rooming with?
Roommates are grouped together by age in order to enhance the overall level of comfort.
I am a finicky eater. Can you cater to special diets?
Yes we can. We know how important it is to eat healthy meals when you are outside and at the beach all day long. We'll ask you in a questionnaire what types of food, snacks, and drinks you prefer.
What do I need to bring?
A complete packing list will be included with your informational registration packet.
What sort of payment do you accept?
We accept checks, money orders, or VISA/MC/AMEX credit cards. All credit card payments are processed online using a secure server. There is a $50 service charge for all returned checks. With the exception of the trip deposit, a 3% credit card surcharge will be assessed to all payments made by credit card. Please review our cancellation policy. Deposits are not refundable after acceptance into a program.
What airport is best to fly into for your program, and do you provide a shuttle service?
The best airport to fly into is the Wilmington International Airport (ILM), which is located a short drive from our suites on Topsail. Our educators meet all participants at baggage claim. The shuttle cost to and from this airport is included in program tuition.
What if I can't get in by the set check in time?
Please contact our Program Coordinator to discuss arrivals and departures outside of our preferred times. In order to avoid missing any planned activities, participants should try to arrive around 1 pm on the first day and depart around 9 am on the last day of camp.
What if my luggage doesn't make it?
Occasionally the airlines will misplace luggage or your suitcases will miss connecting flights. We recommend keeping essentials, such as medications, toiletries, bathing suit, and extra change of clothes, in their carry-on luggage just in case.
What is your cancellation policy?
Sea Turtle Camp is an extremely high quality, tight margined program, with limited space. Therefore, once your student has been accepted into the program, exceptions to this policy cannot be made for any reason, including weather or personal emergencies. Please review the terms of our cancellation policy. In order to enroll in camp you must agree to these terms.
Do you have insurance?
We carry a comprehensive insurance package, including general liability.
How much spending money should I bring?
We recommend campers bring $50 to $75 per week of camp. This is for snacks, souvenirs or gifts you wish to purchase while at camp.