Overview
Marine Biology Adventure – North Carolina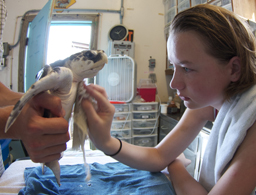 Sea Turtle Camp is located in the warm-water beach town of Topsail Island, North Carolina. Join our program and be part of a growing movement of young marine conservationists. Over the course of your 6-day stay, you will spend time working alongside the volunteers and interns of the Karen Beasley Sea Turtle Rescue and Rehabilitation Center. As you help prepare food, clean tanks, and provide care you will comprehend the enormous amount of time, effort, and love devoted to each turtle.
Each day we will explore different coastal habitats from maritime forests to salt marshes to the ocean's edge. By understanding these ecosystems we will better appreciate the plight of the sea turtle. Since the Sea Turtle Stranding and Salvage Network began keeping records in 1986 the number of stranded turtles has more than doubled, indicating that these creatures are in desperate need of our support.
This camp is designed for students, ages 13-17, who are passionate about sea turtles and the marine environment. Join us on our next adventure as we:
Participate in rehabilitation at the Karen Beasley Sea Turtle Rescue and Rehabilitation Center
Search for turtle nests during nest walks
Explore the salt marsh and learn its vital role in the food chain
Tidepool in North Carolina's only natural rocky outcrop
Visit the North Carolina Aquarium
Earn fifteen hours of community service credit
Due to our commitment to personal instruction, group sizes will be limited to 12 students per camp. This guarantees that everyone has the best experience possible.
Camp tuition includes: lodging in suites on Topsail Island, all meals from dinner on the first day to lunch on the last day, 24-hour same-gender adult supervision, admission to all activities, all equipment, transportation including pickup and drop off from the Wilmington International Airport (ILM), Sea Turtle Hospital donation, community service certificate, Sea Turtle Camp t-shirt and memorable group photo. Campers are responsible for round trip airfare to ILM or transportation to Topsail Island and additional money for souvenirs.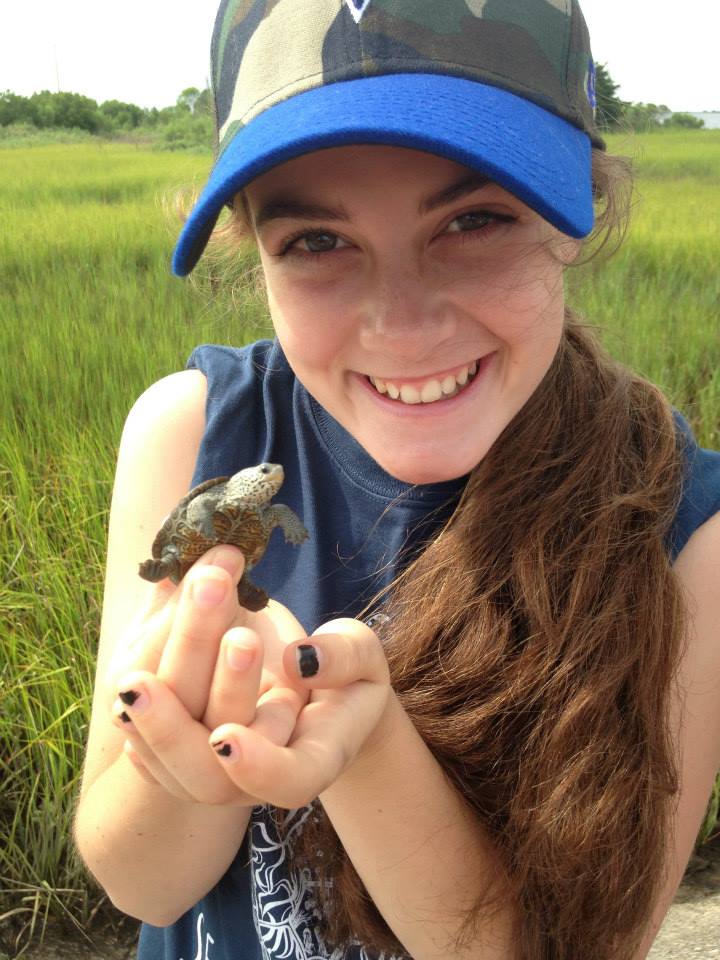 Tuition: $1795
2016 Marine Biology Camp Dates:
June 12-17 CLOSED
June 19-24 CLOSED
July 10-15 CLOSED
July 31-August 5 CLOSED
Click Below to Sign Up!
Returning Families Enroll Here
Itinerary
Itinerary
Day 1
Your arrival to the beautiful North Carolina coast is met with the anticipation and enthusiasm of your fellow campers. You will now have the opportunity to see and interact with real live sea turtles! Not only will you be working with and learning from them, but you will be aiding in the rehabilitation and release of one of the oldest living creatures on the planet. At orientation, all rules and structure for the week will be explained by your counselors, who are equally excited. Then it's off to dinner and evening activities where we will spend time getting to know each other, becoming a marine biological family. Afterwards, we'll head back to the bed because those sea turtles are going to be hungry in the morning, so we have to make sure we're on time and well rested to prepare their breakfast!
Day 2
After breakfast, we'll head straight to work at the Sea Turtle Hospital, where you have the opportunity to be volunteers at the brand new 10,000 square foot facility. With rooms dedicated to husbandry, surgery, and public education, there is much more space than the previous 900 square foot facility. Don't forget that this is a hospital. Everyone here treats it as such, so while mesmerized, keep in mind that the work here is serious. After lunch we get out and explore the salt marshes of coastal North Carolina. These are the vital nurseries and filters for the greater ocean, and equally important to sea turtles. Many juvenile species of marine life grow up here and filter feeders work diligently to remove pollutants from our ecosystem. After cleaning up and filling up with dinner, we'll unwind with some group activities before we hit the hay.
Day 3
Following the tides, we'll travel south to Kure Beach to the only naturally occurring intertidal ecosystem in North Carolina – the coquina outcrop. This ancient sandstone reef extends out from the beach and is home to specific marine species like sea liver, sea anemones, stone crabs, and who knows what else?! It's a fun area to explore on our way to the Fort Fisher Aquarium. At the aquarium we'll follow the flow of water from the freshwater ecosystems of southeastern North Carolina all the way out to our limestone reefs. We not only get to explore each of these exhibits but get to work behind the scenes and become aquarists. After a full day of marine adventure we will refuel and then it's time to relax and reflect on the day before another early morning at the hospital.
Day 4
One of the greatest aspects of Sea Turtle Camp is that by doing what you love, you are giving back while accumulating community service/service learning hours. During your time at the hospital you will learn feeding habits, nutrition, cleaning, water filtration, and much more while discovering the unique personality of each sea turtle. Another way we give back is through daily beach sweeps to inspire others to keep our oceans free of life threatening trash and plastics. We'll meet a very special friend of Sea Turtle Camp, who has been out in the gyres documenting the accumulation of plastics and their harmful effects. This human-based problem changes how you see the world and inspires you into action. Prepare for a long night, because after dinner we search for nesting mothers, while enjoying the bioluminescence that sparkles along the shoreline.
Day 5
The alarm sounds early on your final full day, but it's a big day, so you barely register that. We rise early to potentially witness one of the coolest sights for a sea turtle lover: fresh tracks in otherwise unmarked sand. A fresh turtle crawl! Mother sea turtles come lumbering out of the sea at night, lay their eggs in a trance, and then work their way back to the sea. Our search is followed by another morning of duties at the hospital. After saying goodbyes to our flippered patients, we travel to Wrightsville Beach to explore the salt marsh. T
Day 6
After a laid back breakfast it's time to pack and say our final goodbyes. After exchanging phone numbers and email addresses you say goodbye to all of your new found friends until you meet again next year to care for the new batch of patients at the hospital!
Pictures
Pictures
Marine Biology Adventure
Click on any picture below to enlarge.
Activities
Overnight Marine Biology Camp Activities,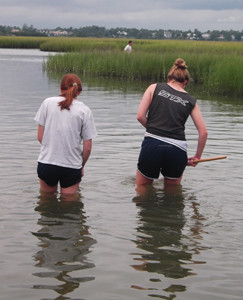 Coastal North Carolina is surrounded by rich marine ecosystems that countless aquatic species call home. From the expansive Atlantic Ocean, with its miles of white sand beaches on barrier islands to the fluctuating and dynamic salt marsh habitats, Sea Turtle Camp gives you the opportunity to explore and study these amazing ecosystems in depth. We strive to provide teenagers with the opportunity to learn more about marine biology and conservation through hands-on, feet-wet experiential educational. Campers get the extraordinary opportunity to work with live sea turtles as well as participate in some amazing daily activities designed to teach them through experience instead of out of a textbook.
During this awesome adventure you will:
Volunteer at the Karen Beasley Sea Turtle Rescue and Rehabilitation Center
Search for turtle nests during nest walks
Participate in a night time sea turtle nest/hatchling watch
Take a Natural History Tour of the NC Aquarium
Understand salt marsh and wetland sustainability
Study floating dock ecology
Learn Sandstone Ecology
Study Dune Ecology
Learn ocean and wave dynamics through surfing lessons
Earn fifteen hours of community service credit
Lodging
Lodging
While at camp, students will be staying in the heart of the sea turtle action on Topsail Island. Pronounced Tops'l by the locals, this 26-mile long, quarter-mile wide barrier island has a rich history filled with pirates, fishermen, and surfers. Since Topsail Island is one of the less developed barrier islands in the area, groves of maritime forest still dot the island and are rumored to hide Blackbeard's treasure. Nowadays, Topsail is known as a laid-back beach town and a sanctuary for sea turtles.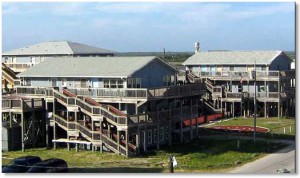 NEW FOR 2016
Campers will be housed in fully furnished retreat center with an ocean view and beach access just a few feet away. This is an ideal location, as we will only be steps from our outdoor classroom. Students will see the sun rise over the ocean during morning nest patrols.
Students will enjoy dining together in our very own dining hall.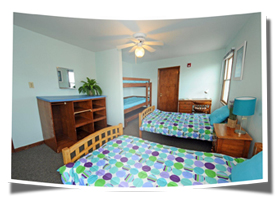 The rooms are gender-specific and feature air-conditioning, comfortable common areas, and gender specific bathrooms. Each participant will have his or her own bed. Sea Turtle Camp staff members are housed on-site and will provide 24-hour, same gender adult supervision.
Campers will not only enjoy the breathtaking sunsets from the decks of the Retreat Center, but also private beach access, game rooms, campfires and outdoor activities such as volleyball, corn hole, basketball and much more.
Now that we are only minutes from the Karen Beasley Sea Turtle Rescue and Rehabilitation Center and beach, we can have a more active role in providing care to the turtles at the hospital and assisting the Topsail Beach Nesting Patrol. More hands-on opportunities and nest watching means more fun for the campers!
Reviews
Reviews
Missy from Gurnee, IL– "I had the time of my life at Sea Turtle Camp. My favorite part was the nest excavation. It was a dream come true to see turtle hatchlings. I have learned so much about marine biology. It was so cool meeting people who share the same interest in turtles as me. The counselors made the experience so much fun for all of us. I have made friends who will last forever. From now on, I promise to make a stand and make the oceans a safer environment for all marine life. I want to thank everyone for the most incredible experience of my entire life. I have made memories that will last a life time."
Macie from Huntersville, NC – " The camp was amazing. This was hands down the best marine biology camp I've ever been to!!!! The experience was incredible. I made so many new friends and got to work with my new favorite sea animal, the green sea turtle. Come to this camp and you will learn so much about turtles and our environment and how much we can make a difference."
Morgan from Sandusky, OH – " I had a blast! My roommates where fantastic, as were the rooms. My counselors were really nice and they worked well together. My intern at the Hospital was great, and I learned a lot! So fun! Can't wait to come back next year!
Parent from Dallas, Texas – "I wanted to let you know that Annabelle made it home filled with stories about camp and how fabulous it was…even better than last year! She made lots of new friends and enjoyed everyone in her group and raved about all of the counselors. She loved the accommodations and said the food was great. She couldn't stop talking about what her group did and loved the educational aspect of the camp along with the fun. She is already talking about going next year….maybe somewhere tropical! Thank you so much and please extend our thanks to your wonderful staff!"
Dylan from Pasadena, MD – " I missed the camp from the first hour I left. It was an amazing experience! I was shy at first but the instructors were the best! I made tons of friends and I am sure to go back next year! It was hard to say goodbye, but now I am even more excited to be a marine biologist!"
Lindsay from Arlington, VA – "This experience is once in a lifetime. If you like marine life, turtles, or are interested at all in the environment, you are going to love this camp. It was the most unbelievable experience of my entire life, and I loved every second of it. From SUPing, dissecting squids, to helping out at the hospital, every moment was amazing."
Chloe from Elon, NC – "Sea turtle camp was really amazing! I learned so much and it made me want to be a marine biologist even more. The counselors were amazing! It was so much more fun and educational then I thought it would have been. My favorite parts were getting to see the sea turtles at the hospital, the surfing lessons, and being able to watch a sea turtle cover her nest and watch her go back into the ocean."
Sarah from Charlotte, NC– "I loved this camp! Every day had something new to explore and do. The campers and I formed pretty close friendships, and we're now keeping in touch in whatever way we can. I don't think anything needs to be changed; this camp met every expectation I had. I can't wait to go out into the world helping to save sea turtles!"
Leah from Branford, CT – "I had an absolutely amazing time at sea turtle camp! I liked working at the turtle hospital and doing the outreach program. I learned so much, and retained all of it. The counselors were great, always very upbeat and fun and I felt so comfortable with them. I met a lot of great new people too, and I was sad to leave. I would love to go back."
Gresham from Vancouver, CANADA – "I really enjoyed Sea Turtle Camp. Our marine ecosystems are very different here in the Great White North – I mean here in Vancouver. Working in the Sea Turtle Hospital and cleaning out tanks is a lot cooler than you might think. By the time I was done, I had learned the name of every sea turtle in the hospital. I knew about their injuries and how the vets had put them back together – sometimes literally. I really admire the volunteers that go there every day and do not get paid. I also enjoyed teaching my family about everything I learned. I would recommend this camp and I look forward to going again."
Rachel from Holly Springs, NC – "I came to Sea Turtle Camp with very high expectations and also a little bit of worry that it may not be able to live up to them, but it exceeded my expectations within the first few hours. I was never bored, we were always doing some kind of hands on activity. It was the best week ever, I had so much fun, and I learned a lot more about marine biology. I am also excited that I came home knowing to surf and stand up paddle board."
Mikayla from Chaumont, NY – "My experience with Sea Turtle Camp was amazing. It was the best week of my life. I really enjoyed working at the Sea Turtle Hospital. I also really loved the surf lesson and SUP lesson. I had a blast with those. The nest walk was a lot of fun, and was a great experience. I will never forget the memories or the friends that I made at camp. This camp really enforced my interests in marine biology and coastal conservation. It was a great experience, and I'm so glad that I had this opportunity."
Lia from Yarley, PA – "I know now the delicate balance that the ocean life has tremendously increased. We need to make a change and do something instead of saying something. There are many marine wildlife creatures that are suffering from our foolish mistakes. We need to own up to them instead of blaming others. More precautions should be taken and more awareness of the life of the ocean that is slowly dying. I hope that we will make a comeback by helping not just sea turtles but other species take back what was rightfully theirs. The future holds many things, let the sea turtles be in it."
Tiffany from West Windsor, NJ – "The instructors are awesome, they know exactly how involved to be with the campers and are two of the nicest and most interesting people I've ever had the pleasure to meet. Each experience helped me grow as a person and taught me to understand our environment on a deeper level. The chances to work and love the turtles at the hospital were a blessing and a dream come true; you become attached to those guys faster than you can imagine. I have always wanted to be a marine biologist, since I was a little girl, and this wonderful camp has helped me to realize how strongly and passionately I care, and how badly I want that dream to come true."
Annabelle from Dallas, Texas – "I'll never experience anything more interesting, fun, and intriguing. To see and care for such amazing animals is something that is a once-in-a-life time experience and it brings me great joy to know that I was able to take part in such an amazing movement. Learning to surf, trawling, and seeing all the different types of fish, and working at the Hospital…I'll never experience anything more interesting."
Samantha from Saint Cloud, FL – "Sea Turtle Camp was definitely the most fun camp I have ever been to. The experiences we had were amazing and unforgettable and my interest in marine biology and the environment has increased due to the knowledge I gained here. I would recommend Sea Turtle Camp to anyone."
Chris from Burlington, NC – "It was a very fun camp. I had several once in a life time experiences. For example I doubt I will ever feed sharks again. If I wasn't too old then I would want to go for it next year. It was very fun."
Lauren from Cary, NC – "Sea Turtle Camp was one of the best things I did all summer. I learned a lot from everything we did and everyone we met. I loved meeting the people that worked at the sea turtle hospital because they are so passionate about what they are doing. I want to thank everyone who was a part of my experience because it was so much fun and a great learning experience."
Kayla from Painted Post, NY – "Nothing can compare to giving a turtle a back rub and watching it dance!"
Lissette from Charlotte, NC – "My camp experience changed my life. Between the amazing counselors, how much we learned, and the friends we made, I couldn't ask for more. Jamie and Leah made us feel at home, and I learned more than I ever thought about the ecosystem and how our environment needs help. Having the experience to work with Jean and the turtles at the hospital really touched my heart and reinforced my desire to want to work with these animals. The friends I made, I still talk to every day and know we will be friends for life. I was so lucky to be able to be a part of this camp, and I'm so grateful."
FAQs
FAQs
Do I get to see real live sea turtles?
YES!!! We work very closely with the Karen Beasley Sea Turtle Rescue and Rehabilitation Center who have an average occupancy of about 20 sea turtles with varying degrees of injury or illness. Some are even permanent residents due to the severity of their injury. The NC Aquarium usually houses a few behind the scenes and from time to time we even see them out in the ocean.
What kind of community service will I be doing?
At Sea Turtle Camp service is the most rewarding part of our program, and we like to think of it as service learning. Everything we do at the Karen Beasley Sea Turtle Rescue and Rehabilitation Center, from working directly with live sea turtles, cleaning, and feeding sounds more like enjoyment than service, but it is.
Should I bring a friend?
While most participants come alone, you are welcome to come with a friend.
How old are the campers I will be rooming with?
Roommates are grouped together by age in order to enhance the overall level of comfort.
I am a finicky eater. Can you cater to special diets?
Yes we can. We know how important it is to eat healthy meals when you are outside and at the beach all day long. We'll ask you in a questionnaire what types of food, snacks, and drinks you prefer.
What do I need to bring?
A complete packing list will be included with your informational registration packet.
What sort of payment do you accept?
We accept checks, money orders, or VISA/MC/AMEX credit cards. All credit card payments are processed online using a secure server. There is a $50 service charge for all returned checks. With the exception of the trip deposit, a 3% credit card surcharge will be assessed to all payments made by credit card. Please review our cancellation policy. Deposits are not refundable after acceptance into a program.
What airport is best to fly into for your program, and do you provide a shuttle service?
The best airport to fly into is the Wilmington International Airport (ILM), which is located a short drive from our suites on Topsail. Our educators meet all participants at baggage claim. The shuttle cost to and from this airport is included in program tuition.
What if I can't get in by the set check in time?
Please contact our Program Coordinator to discuss arrivals and departures outside of our preferred times. In order to avoid missing any planned activities, participants should try to arrive around 1 pm on the first day and depart around 10 am on the last day of camp.
What if my luggage doesn't make it?
Occasionally the airlines will misplace luggage or your suitcases will miss connecting flights. We recommend keeping essentials, such as medications, toiletries, bathing suit, and extra change of clothes, in their carry-on luggage just in case.
What is your cancellation policy?
Sea Turtle Camp is an extremely high quality, tight margined program, with limited space. Therefore, once your student has been accepted into the program, exceptions to this policy cannot be made for any reason, including weather or personal emergencies. Please review the terms of our cancellation policy. In order to enroll in camp you must agree to these terms.
Do you have insurance?
We carry a comprehensive insurance package, including general liability.
How much spending money should I bring?
We recommend campers bring $50 to $75 per week of camp. This is for snacks, souvenirs or gifts you wish to purchase while at camp.