Overview
Costa Rica Sea Turtle Adventure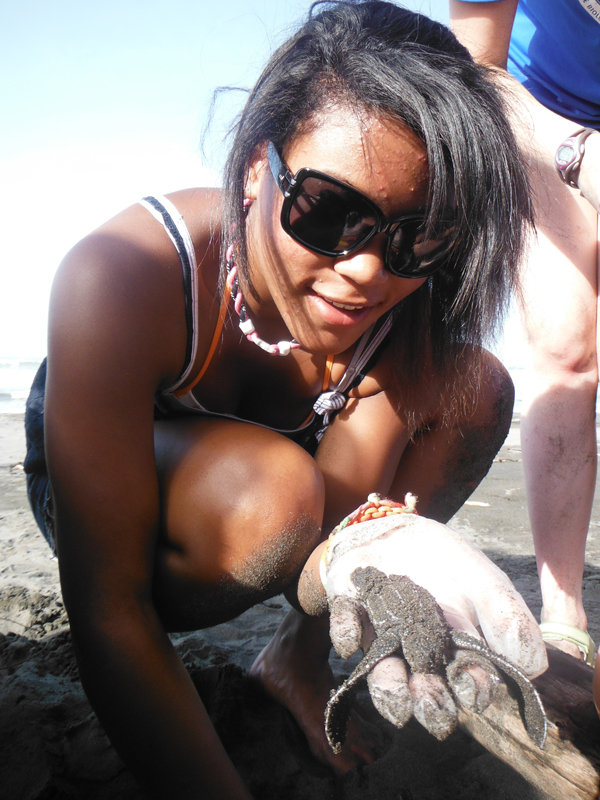 Sea turtles abound in Costa Rica! With 5 of the world's 7 species found here, the beaches and waters are full of turtle observing opportunities, and we will take full advantage of this. As we travel to the Caribbean Coast during one to the most active green sea turtle nesting aggregations in world, we will assist a long-term research project with nightly beach patrols. Leatherbacks frequently ply these waters, and their nests will be hatching out around this time as well.
This exclusive adventure will immerse like-minded teens in the local language, culture and ecology with our team of trained professionals. We will start the trip off with a visit to the University of Georgia campus in Monteverde where we will learn about Costa Rica's rich culture and natural environment. While here we will also participate in a zip-line tour through the cloud canopy.  After departing Monteverde, we will go rafting along the Pacuare River. Along the way, we will explore a rain forest ecosystem up close with naturalist led hikes. After following the flow of water to the coast, we will be ferried to our small island community, La Tortuga Feliz, for turtle patrol training. It is here we will spend the next week looking for tracks, nests, laying mothers and hatchlings. You will work alongside other volunteers to patrol the beach for sea turtle nests, man a sea turtle hatchery, and participate in the care and study of recuperating adult turtles in the turtle rescue and rehabilitation center.
Costa Rica is one of the safest and easiest international travel destinations in the world. It is a sustainable country, with no standing military, that focuses on creating greater equality of wealth among citizens and protecting their natural resources. Over a quarter of the country is set aside for conservation! With a modern international airport in San Jose and well-maintained highways, Costa Rica is very welcoming to tourists. Due to its friendly culture and "rich coastal" natural resources, Costa Rica is rated one of the hottest eco-travel destinations in the world!
This program is designed for teens ages 14-17 that are passionate about sea turtle conservation and looking for a tropical adventure abroad. Join us on our next trip as we:
Receive sea turtle patrol training
Perform sunrise and nocturnal nest walks
Collect data on nesting females
Raft down the Pacuare River
Hike with a naturalist through the rainforest
Zip-line through the cloud canopy
Take Spanish lessons from native speakers
Earn thirty hours of community service credit.
Camp tuition includes: all lodging, meals, 24-hour same gender adult supervision, shuttle to and from San Jose's Juan Santamaria international airport (SJO), equipment, daily transportation, t-shirt, activity fees, community service certificate and your team photo. Arrival should be scheduled between 12-3 pm on the first day and departures between 1-4 pm on the last day.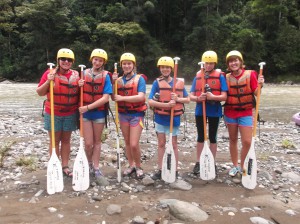 Tuition: $3295
2016 Costa Rica Camp Dates:
July 24-August 6
CLOSED
Click Below to Sign Up!
Returning Families Enroll Here
Itinerary
Itinerary
Day 1 – 4
After stepping off the plane in San Jose your enthusiasm builds as you meet your instructors and fellow campers. You've waited all summer and now you'll have the opportunity to interact with real live sea turtles! But first, we're off to the rainforest. You'll travel to the UGA Costa Rica campus for a 4-day eco-adventure in the Monteverde Cloud Forest Reserve. Here we will learn about ecological diversity of the region as well as take in the culture of Costa Rica! A visit to Monteverde would not be complete without a zip-line canopy tour of the cloud rainforest before we depart for our next adventure.
Day 5 – 7
Next, we'll trade in our flip flops for paddles and PFDs as we travel through the Pacuare River system on a white water rafting expedition. After a day of rafting, we will stop along the river for some rest at the Pacuare River Lodge. The riparian zone along the river provides an excellent opportunity to see a wide variety of wildlife. Our excitement builds as we have one final morning raft along the river and travel to the coast for a week of turtle monitoring and data collection. After this incredible introduction to Costa Rica, we'll be ready to head to the serenity of the beach.
We're finally going to see the sea turtles! After taking a short boat ride to reach the field station, we'll be welcomed by the village members who have made sea turtle conservation a priority. We will take part in a patrol training session, followed by a beach practice session where we'll see how a sea turtle nest is made – it's tough work with hands, so imagine how difficult it must be with flippers! As night descends, our excitement reaches near fever pitch as we will be patrolling the beach in shifts to await the nesting mothers. Nothing compares to watching that mom emerge from the water, crawl up the beach, excavate a nest and drop in her precious offspring.
Day 8 – 13
This area is famous for being a nesting site for Leatherback and Green sea turtles so they will certainly keep us busy. When not patrolling the beach, collecting data on nesting mothers or protecting the nests, we will be helping out in the hatchery, performing beach clean-ups or receiving Spanish language instruction from native speakers. This truly is the pura vida lifestyle! Each day, our anticipation builds as we get excited for what new turtle the waves will bring.
Day 14
We've loved our work at the beach and the time spent with the turtles, but it's time to make our way back home. When the sun finally sets on our last day, we'll have a mix of sadness and pride that we were able to contribute to something so important. We'll load up all of our gear and travel to San Jose where we will say our goodbyes as we board our flights. At the airport, you and your fellow campers will begin planning where you want to go next summer for Sea Turtle Camp!
Pictures
Pictures
Costa Rica Sea Turtles
Click on any picture below to enlarge.
Activities
Activities
Costa Rica supports both rich marine ecosystems and diverse rainforest habitats, and we will have the opportunity to explore each environment while gaining a better understanding of their inhabitants. We provide teenagers with the opportunity to learn more about marine biology through hands-on, feet wet experiential educational. Campers get the extraordinary opportunity to work with live sea turtles as well as participate in some amazing daily activities designed to teach them through experience instead of out of a textbook.
During this 14-day adventure we will:
Volunteer with a sea turtle conservation organization
Participate in sunrise or nocturnal sea turtle nest spotting walks
Conduct nighttime sea turtle nest/hatchling watch
Help collect data on nesting female turtles
Learn proper beach patrol procedures
Work in shifts at a hatchery and turtle rehabilitation center
Participate in whitewater rafting adventure tour along the Pacuare River
Canopy zip lining through the cloud canopy rainforest
Take guided nature hikes through the rainforest
Learn Spanish from native speakers
Earn thirty hours of community service credit
Lodging
Lodging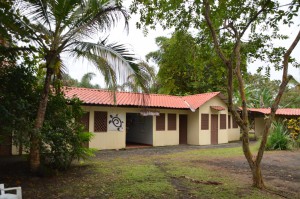 We will be staying at a mixture of eco-lodges and research stations as we travel through Costa Rica. Students of same gender will be housed together, with each participant having his or her own bed with linens provided. A Sea Turtle Camp staff member will stay on site, providing 24 hour same gender supervision.
In Monteverde, we will stay in bunkhouses at the University of Georgia Costa Rica campus. While rafting along the Pacuare River we will stay at an eco-lodge right next to the river, giving us the opportunity to see other rafters face the rapids we have recently descended.
While doing turtle research on the Caribbean coast, we will be housed at La Tortuga Feliz. This facility is situated on an isolated beach that can be reached by boat. The facility operates using solar power and has modern, same gender restroom facilities.
Reviews
Reviews
Lauren from Chesapeake, VA – "I have been attending Sea Turtle Camp for two summers. First in North Carolina and now in Costa Rica and both times have been amazing! I look forward to Sea Turtle Camp all year. I have made so many friends and learned so much about sea turtles and ocean conservation. Sea Turtle Camp is an experience I will never forget. The Costa Rica camp was so much fun! We really got to learn about sea turtle nesting and be hands on with the sea turtle hatchlings and the nesting mothers I was in awe of it all. The nest excavation was so informative and so amazing I loved to save the few hatchlings left behind and to learn how many eggs did not hatch and how deep a nest actually is. I loved the whitewater rafting and zip lining was also very cool!"
Kate from Harvard, MA – "I have always had a passion for conservation, but until sea turtle camp, I had never done anything that I knew helped the earth so directly. I stepped off that plane in a new country and a new perspective on conservation and life began. The people I met shared my passion for saving those ancient animals and honestly cared about what happened to them. Even though it was not always easy to wake up at 11:30 at night and walk around on a beach for four hours, it was definitely worth it when we saw the nesting leatherback. I experience many new things that I wouldn't have otherwise: eating more rice and beans than I ever thought I would, tropical whitewater rafting, exotic foods, going to a foreign country by myself and mostly seeing baby sea turtles scuttle down to the ocean to start their long journey in the Atlantic and the nesting leatherback. Everyone got really inspired."
Parent from Summersville, WV – " Thank you for all the updates from camp along the way. Serena had a wonderful experience and was so excited for this opportunity! ! We are so glad that we found your camp! Thanks again."
Nika from Nampa, ID – "It was so cool to experience a new culture and to get out of our crowded and busy lives in the United States. The instructors were great, and interacting with real turtles and hatchlings was amazing! I loved seeing the hatchlings and digging up the nests, it was so interesting and cool. The activities we participated in gave us a taste of Costa Rican culture. I also loved zip lining and river rafting! The thrill and feelings were amazing. I'm so glad I went, and I've made new friends that I hope to keep forever."
Parent from Boston, MA – "Kate has had a great time, though I'm sure it would have been much better had I been tagging along. This was a perfect combination of travel, education, and community service. We were looking for something that would be more than just a bunch of entitled kids traveling in Central America, and from what we have heard thus far, it was tremendous. Thanks for all your efforts!"
Anonymous – "That is how I like to go to camps- really heading out to do something fun and with adventure. Sea Turtle Camp opened my eyes further to the status of conservation of these creatures, and I really want to help them more now. Helping the sea turtles in Parismina was my favorite part. I loved the exhumations, even if I couldn't stand the smell of the dead eggs, the night walks, even if I was tired and hungry and discouraged, and watching the baby turtles crawl down to the ocean on the beginning of their long journey. I loved it even if it wasn't easy or always fun, but when we got to see all of the hatchlings and then the nesting turtle, it was all worth it."
Callie from Virginia Beach, VA – "I would really recommend this camp to anyone! I did many things that I had never done before. Everyone got along well and I made new friends. I know I will never forget this camp. Because of Sea Turtle Camp I have become more environmentally conscious. It really did change the way I think. It was a wonderful experience and I just wish that everyone could get to see and do the things we did."
FAQs
FAQs
Do I get to see real live sea turtles?
YES!!! We will be volunteering with La Tortuga Feliz in an isolated island community near the town of Bataan (just north of the mouth of the Pacuare River). During our stay, we will be part of their patrol group monitoring the beach for nesting turtles, collecting data and protecting the nests and working shifts monitoring the sea turtle hatcher.
What kind of community service will I be doing?
At Sea Turtle Camp service is the most rewarding part of our program, and we like to think of it as service learning. Everything we do on the patrols or in the hatchery sounds more like enjoyment than service, but it is. We'll also perform beach clean-ups to remove obstacles for incoming nesting mothers.
Do I need a passport?
Yes, to travel to Costa Rica you need a valid passport.
Is Costa Rica a safe country to visit?
Yes, exceptionally so. They abolished the army in 1949 and have focused their efforts on creating greater equality of wealth among citizens and protecting their natural resources. Costa Rica has the highest standard of living in Central America, and over 27% of the countries land has been set aside for conservation.
Are medical services available?
While at La Tortuga Feliz, a Coast Guard station is just 0.5 miles down the beach from the facility and 911 service is available. Transportation to the medical center, Clinica Bataan, takes just under an hour.
On the rafting trip, the team will be led by trained guides that are knowledgeable of the area and are certified in CPR, First Aid, Wilderness First Responder and Swift Water Rescue.
Should I bring a friend?
While most participants come alone, you are welcome to come with a friend.
How old are the campers I will be rooming with?
Roommates are grouped together by age and gender in order to enhance the overall level of comfort.
I am a finicky eater. Can you cater to special diets?
Yes we can. We know how important it is to eat healthy meals when you are outside and at the beach all day long. As this is a field based international travel program, we will be unable to cater to severe food allergies.
What do I need to bring?
A complete packing list will be included with your informational registration packet.
What sort of payment do you accept?
We accept checks, money orders, or VISA/MC/AMEX credit cards. All credit card payments are processed online using a secure server. There is a $50 service charge for all returned checks. With the exception of the trip deposit, a 3% credit card surcharge will be assessed to all payments made by credit card. Please review our cancellation policy. Deposits are not refundable after acceptance into a program.
What airport is best to fly into for your program, and do you provide a shuttle service?
The best airport to fly into is Juan Santamaria International Airport in San Jose (SJO). It is located about 10 minutes from capital city of Costa Rica. You are responsible for purchasing and booking your flight to SJO. Once at the San Jose airport, our educators meet all participants just outside of customs and will transport them to our accommodations.
What if I can't get in by the set check in time?
Please contact our Program Coordinator to discuss arrivals and departures outside of our preferred times. In order to avoid missing any planned activities, participants should try to arrive between 12-3 pm on the first day and depart between 1 – 4 pm on the last day of camp.
What if my luggage doesn't make it?
Occasionally the airlines will misplace luggage or your suitcases will miss connecting flights. We recommend keeping essentials, such as medications, toiletries, bathing suit and extra change of clothes in their carry-on luggage just in case.
What is your cancellation policy?
Sea Turtle Camp is an extremely high quality, tight margined program, with limited space. Therefore, once your student has been accepted into the program, exceptions to this policy cannot be made for any reason, including weather or personal emergencies. Please review the terms of our cancellation policy. In order to enroll in camp you must agree to these terms.
Do you have insurance?
We carry a comprehensive insurance package, including general liability. We do recommend that participants in our programs purchase travel insurance to protect their investment.
How much spending money should I bring?
We recommend campers bring $50 to $75 per week of camp. This is for snacks, souvenirs or gifts you wish to purchase while at camp.