Sea Turtle Camp Educators
The Sea Turtle Camp team is comprised of expert Marine Science educators and an administrative staff who bring with them professional experience, in-depth knowledge and a broad range of skill sets. Sea Turtle Camp counselors are passionate about marine biology and the study of coastal ecosystems, and they are excited to share this passion with curious campers who have also discovered the importance and wonder of this field.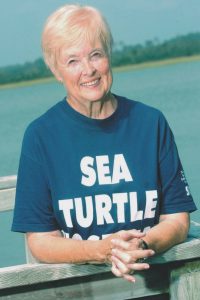 Employment at Sea Turtle Camp is extremely competitive. We examine hundreds of applications before selecting members of our elite team. All applicants must go through our intense three-part interview process and comprehensive background check. We take only the top candidates and are extremely proud to provide one of the greatest employment opportunities available among summer camps. Upon hiring, all counselors must attend our mandatory staff orientation prior to the start of each season. Required qualifications include American Red Cross certification in Lifeguarding, CPR and First Aid.
Our founder, Jen Civelli, plays a fundamental role in the hiring and training of each team member. Jen has worked as a chemistry instructor at Cape Fear Community College and UNC-Wilmington and has spent many years working with Jean Beasley at the Sea Turtle Hospital. She and her family continue to play a huge role in raising awareness and funds for this amazing organization.
Our mission statement of empowering youth to become independent, proactive stewards of the environment is deeply shared by our team. We are conscious of the fact that without the ocean there is no life on earth. We have dedicated our lives to educating campers about environmental conservation, living a lifestyle that is harmonious with this purpose, and exploring new ways of sharing our mission.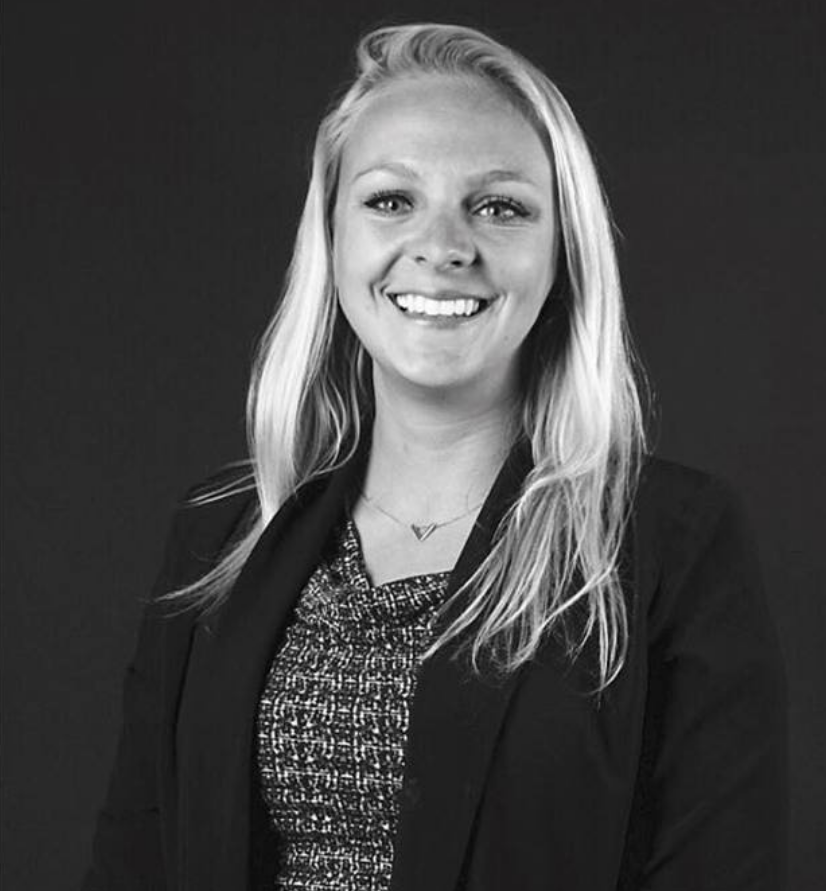 Blair Brannon, Program Coordinator
Blair is from Cornelius, a small town just north of Charlotte, NC. Her parents were avid scuba divers and got her involved when she was just 15 and has been scuba diving all around the world in places like Hawaii, Bahamas, Jamaica, St. Thomas, Florida Keys, Puerto Rico, and Mexico. Soon after her introduction to diving, Blair's interest in the ocean and marine life grew into her passion, which developed into her career.
In 2011, Blair moved to pursue a degree at the University of North Carolina Wilmington (UNCW). There she studied Environmental Science with a minor in Spanish and volunteered at the NC Fort Fisher Aquarium. Each winter, she spent time in Costa Rica with sea turtle nest excavations and releasing hatchlings, gaining hands on experience. During an internship with the NC Coastal Federation in Wrightsville Beach, Blair found her calling for environmental education and sharing her passion with others. Loving Wilmington so much, she decided to continue her studies and received a Master of Science in Environmental Science, Coastal Management.
Following her graduation in 2017, Blair began her journey with our Surf Camp division becoming Unit Leader for the Guppy and Grom programs during the summer, earning 2017 Counselor of the Year.  After that summer season, she worked for UNCW Youth Programs, traveling to schools all around coastal NC teaching classes hands-on marine science lessons.
In her free time Blair can be found traveling, playing soccer or volleyball, spending time at the beach, going to trivia nights, scuba diving, or holding up her ping pong champion status in the office.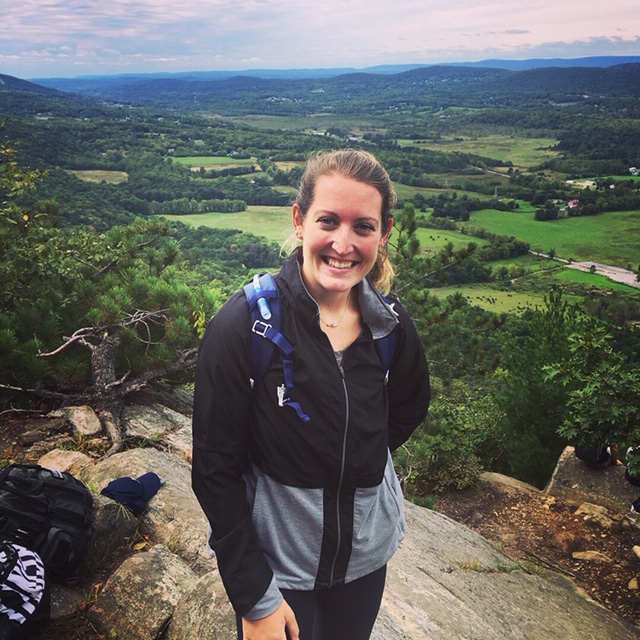 Kasey Schollenberger, Travel Program Coordinator
Kasey was born and raised in Toms River, New Jersey. Growing up on the Jersey Shore, she was able to visit the beach year round and develop a true connection to the ocean and all of the related wildlife and ecosystems. At a very young age, she knew that she wanted to spend her life developing her passion for the ocean and marine life.
In 2008, Kasey moved to North Carolina to pursue a Bachelor's degree in Marine Biology from the University of North Carolina Wilmington (UNCW). While completing her degree, she volunteered and interned at the NC Aquarium at Fort Fisher. Soon after graduating, Kasey interned at the University of Georgia's Marine Extension Service and Aquarium as an environmental educator. This is where her passion for environmental education flourished. Following that internship, Kasey decided to further her education and returned to UNCW to pursue a Master's of Science degree in Environmental Science and Coastal Management. Kasey has a wide variety of education experience in the fields of marine and environmental science, which have all deepened her love for public outreach and all things related to the marine environment.
When Kasey isn't teaching about the ocean, she can be found at the beach reading a book, hiking, kayaking, or doing just about anything outdoors! She is very excited to have found her way back to Wilmington and loves that she gets to spend winters in North Carolina instead of freezing in New Jersey!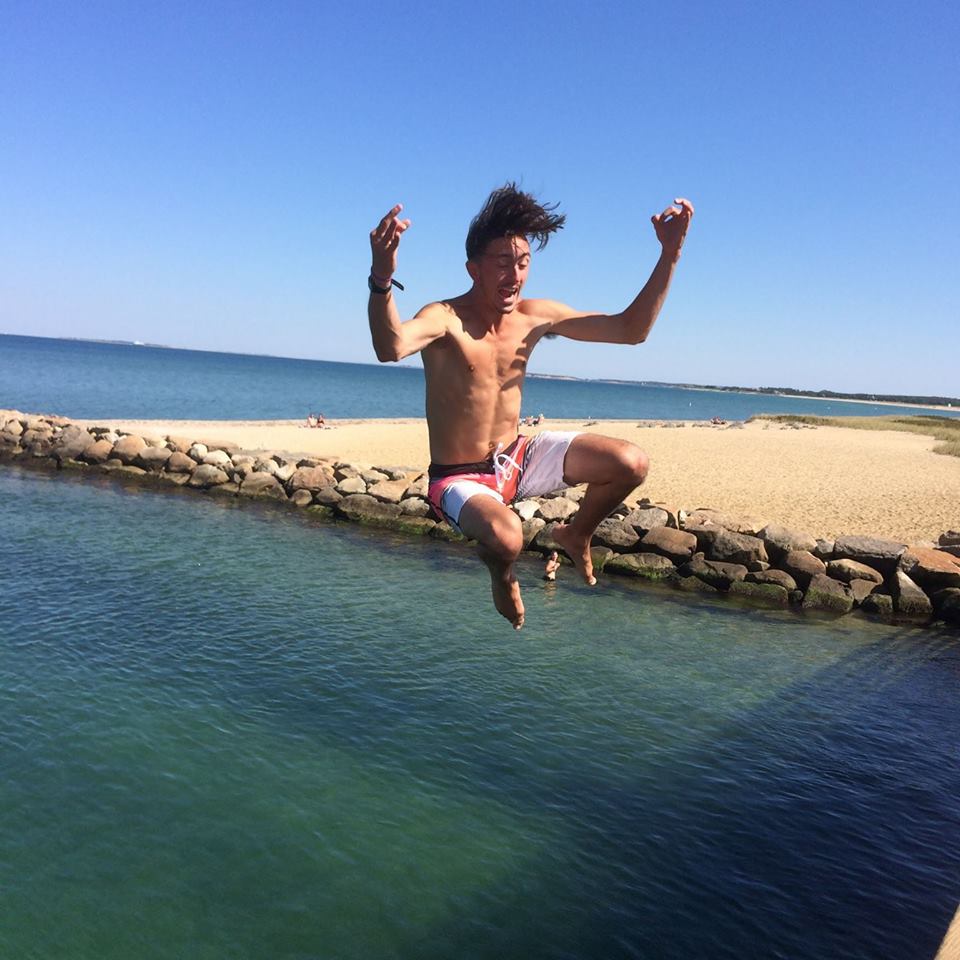 Kody Crawford, Camp Director
Kody is from the south shore of Massachusetts. By far, his favorite part of the year is summer. He spent his early summer seasons walking to the local beach with his friends. The only time not spent in the salty cold northern Atlantic was swapped for his fresh water escapades at his beloved childhood summer camp.
Kody considers himself a jack of all trades when it comes to hobbies and interests. He is a master level martial artist, a certified culinary artist, an avid adventure outdoorsman and former guide, (a previous) all scholastic runner, a novice breakdancer, and a decent volleyball player.
But one passion trumps all others – Kody's passion for camps and youth development. Kody has held numerous roles at different camps. From junior counselor, to outdoor educator, to unit leader, and all the way to full time director, Kody has spent many years embodying the spirit of camp in the pursuit of helping youth find their way. It is for that reason Kody graduated from the honors program at Ithaca College with a degree in Recreation Management. In effort to further support children throughout the year, Kody will be undergoing graduate studies in School Counseling this fall at UMASS Amherst.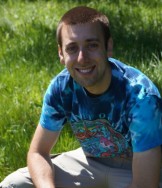 Ryan Tucker – Unit Leader (SCUBA)
Born on the north coast of California, the salty air soaked in early. Ryan moved across the country to Elizabeth City NC in 1995 and back to CA in 1999 -he grew up all over because his dad was in the Coast Guard. Growing up he had a love for the outdoors and especially the ocean. Ryan received his Bachelors of Science in Marine Biology and a Minor in Scientific Diving at Humboldt State University. It was in college that he fell in love with SCUBA and all that it has to offer. He hopes to bring this passion to Sea Turtle Camp again this summer. He is fascinated by all that is under the sea and loves getting to learn more every day.
Ryan was with us last year and is so excited to be a part of camp again and have the opportunity to share his love for sea turtles, marine science, diving, and of course the ocean. "Let's blow some bubbles"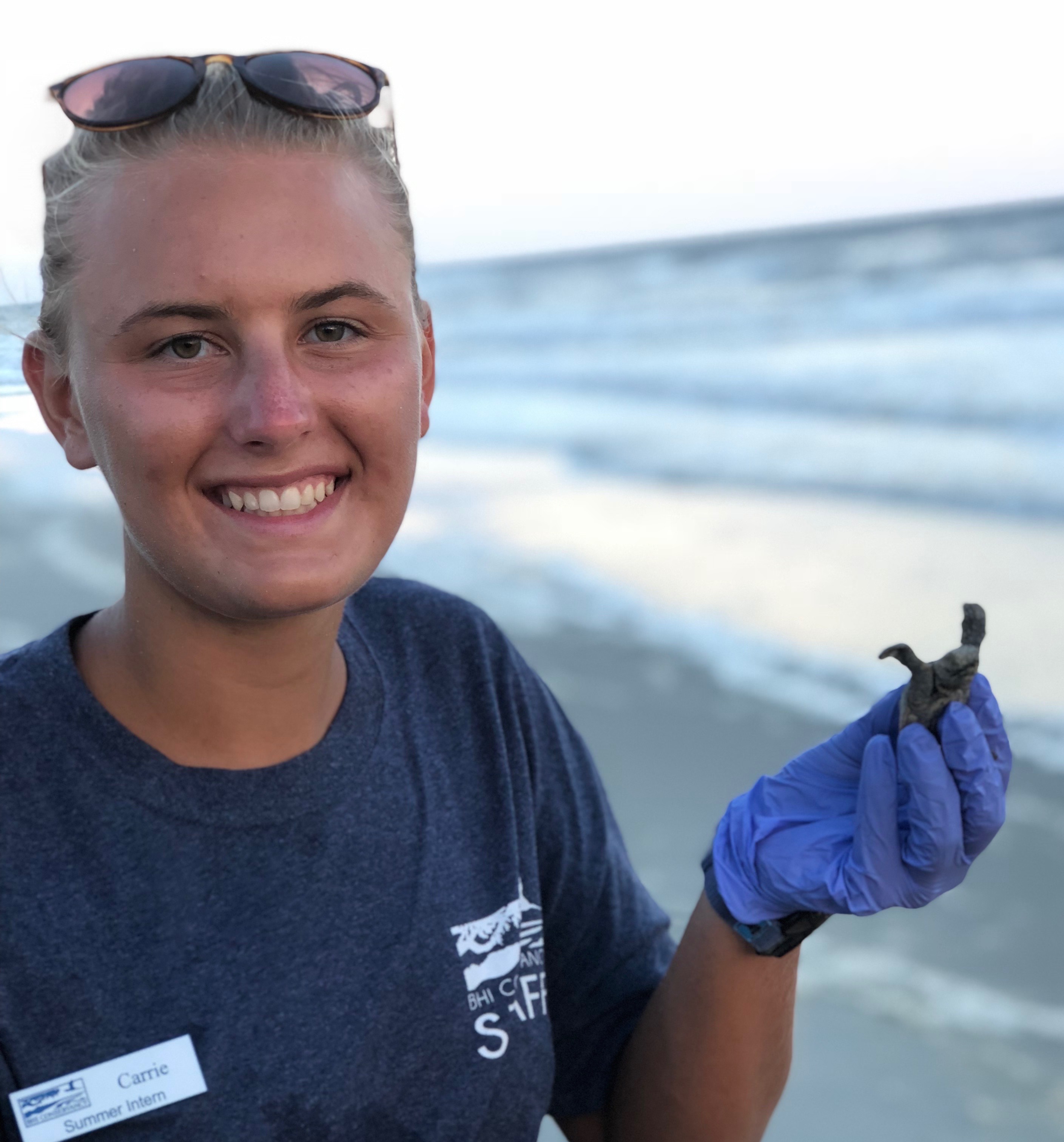 Carrie Zamonski – Marine Educator (SCUBA)
Carrie grew up in southeastern Pennsylvania and spent many summer weeks at either the Jersey Shore or the Outer Banks, where she fell in love with the beach and ocean conservation. Carrie received a degree in Environmental Resource Management, with minors in Marine Science and Watersheds and Water Resources from Penn State University in May 2019. At Penn State, Carrie became involved in the University's science diving program, where she learned to scuba dive and gained an appreciation for underwater science exploration! At school, Carrie worked as a trip leader guiding outdoor adventure trips and team facilitation programs for Penn State's Outdoor Adventures Program. Carrie has interned at the Philadelphia Zoo, at Riverbend Environmental Education Center, and at the Bald Head Island Conservancy, which all helped deepen her love for the natural world, public outreach programs, and wildlife. In her free time, you can find Carrie traveling, talking about turtles, hiking, rock climbing, or doing just about anything outside. She is super stoked to spend a summer next to the beach teaching future generations about the ocean, conservation, and scuba diving!
Locke Revels – Marine Educator (SCUBA)
North Carolina born and bred, Locke holds a strong passion for the outdoors and a joy for sharing that passion with others. He grew up in Harrisburg, NC making frequent trips to explore the lakes, beaches, and mountains from one end of the state to the other. While attending UNC-Chapel Hill to study environmental and marine sciences, he experienced the wonder of SCUBA diving which has led him into a deeper fascination with the marine environment ever since.
Now a PADI rescue diver and AAUS scientific diver, Locke has applied his love for the underwater world by conducting research on artificial reefs in North Carolina, and exploring marine environments in New Zealand, Fiji, Ireland, the northern Gulf of Mexico, and the Baja California Peninsula. When not underwater, Locke enjoys backpacking and travelling, playing ultimate frisbee, riding his mountain bike, climbing, trail running, and just about anything to do with music. This will be his first summer with Sea Turtle Camp and he is so stoked to meet the campers and share in some new ocean adventures!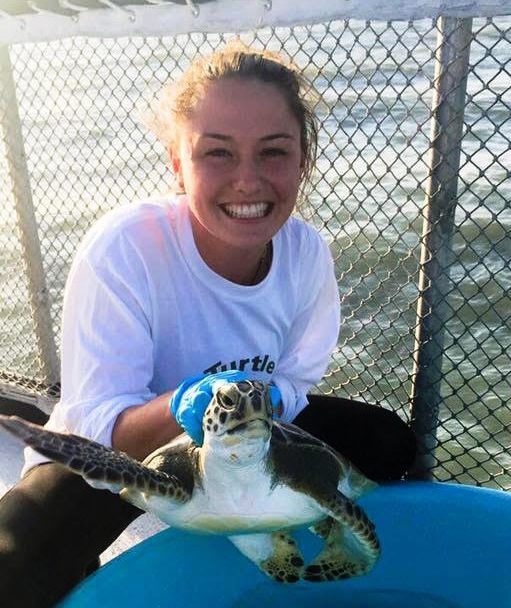 Courtney King – Unit Leader (Loggerheads)
Courtney is an enthusiastic marine conservationist who is very excited to spend the summer with us at Sea Turtle Camp! After graduating with a degree in Biology, she has been working with nesting sea turtles since May of 2017 on both coasts of Costa Rica and on South Padre Island in Texas. She is now living and working back in Costa Rica with the biggest sea turtle species on the planet, the Leatherback! While in Texas, she also worked in environmental education and loved inspiring young people about the importance of marine conservation and is very excited to do the same here on Topsail. She hopes to encourage young aspiring marine biologists to get out of the comfort zone, go after their dreams, and see the world. Courtney loves spending time outdoors kayaking, hiking, and snowboarding and can't wait to be a Unit Leader for Sea Turtle Camp 2019!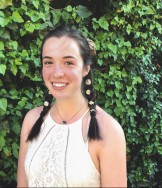 Nicole Krampitz – Marine Educator (Leatherbacks)
Nicole Krampitz is a Senior at the University of Miami majoring in Marine Science and Biology with minors in Math and French. From a young age, she has always had a passion for ocean, specifically marine mammals and other large vertebrates. She spends as much of her time as she can on or in the water, whether that be through swimming in the lap pool, fishing on a friend's boat, or diving under the water. During the school year she volunteers at a coral acidification lab and serves as a Teaching Assistant for chemistry labs. She's also SCUBA certified and fluent in French!
She is currently spending a semester abroad in the Galapagos monitoring sea turtle nesting sites on the island of Islabela. After college, she plans on obtaining her master's degree in a related field of marine science. Her ultimate goal is to one day work in the field of conservation or lead research pertaining to marine ecology!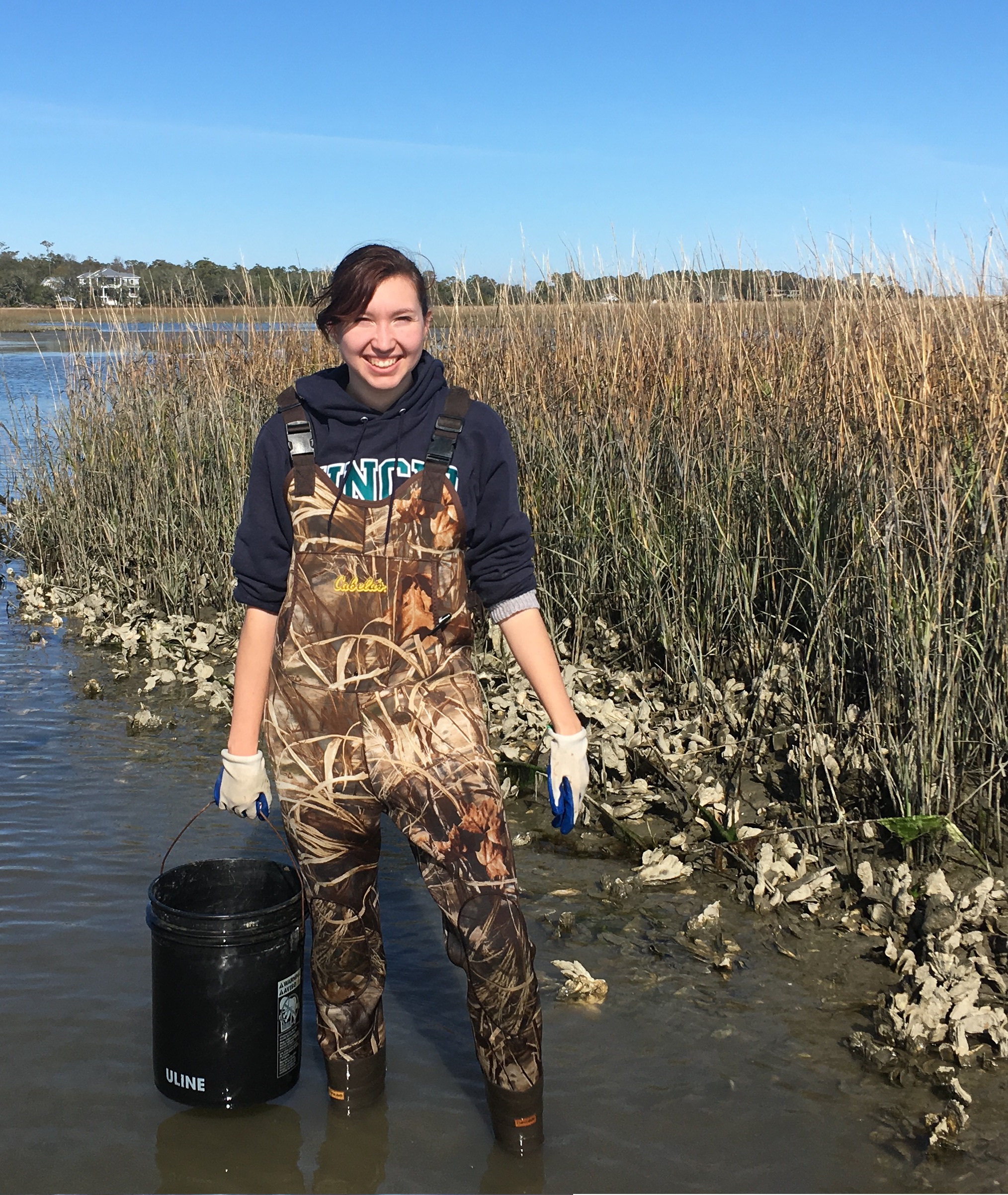 Hannah Whitaker – Unit Leader (Leatherbacks)
Hannah Whitaker is a dedicated soon-to-be graduate of UNC Wilmington, passionate about the ocean, conservation, and science communication. A double major in marine biology and environmental science with dual minors in chemistry and French, she intends to continue her studies in graduate school with the ultimate goal of a PhD in marine science and eventually, professorship. Her research experience encompasses tropical reef chemical ecology, ocean acidification effects on invertebrates and processes including bioerosion, phytoplankton spatiotemporal distribution, and coral reef responses to human disturbance.
Hannah hopes to pursue a career in tropical coral reef conservation and has a particular interest in the effects of ocean acidification and climate change on reef ecosystems and dynamics. As enthusiastic about sharing her knowledge as she is about expanding it, Hannah is also a dedicated tutor and peer mentor with experience as an aquarium educator and environmental outreach coordinator, and has been a summer camp counselor since high school. She is at her happiest in the water, a fact to which her SCUBA experience and time as high school swim team captain attests. Outside the classroom and the lab, Hannah revels in the written word and the great outdoors.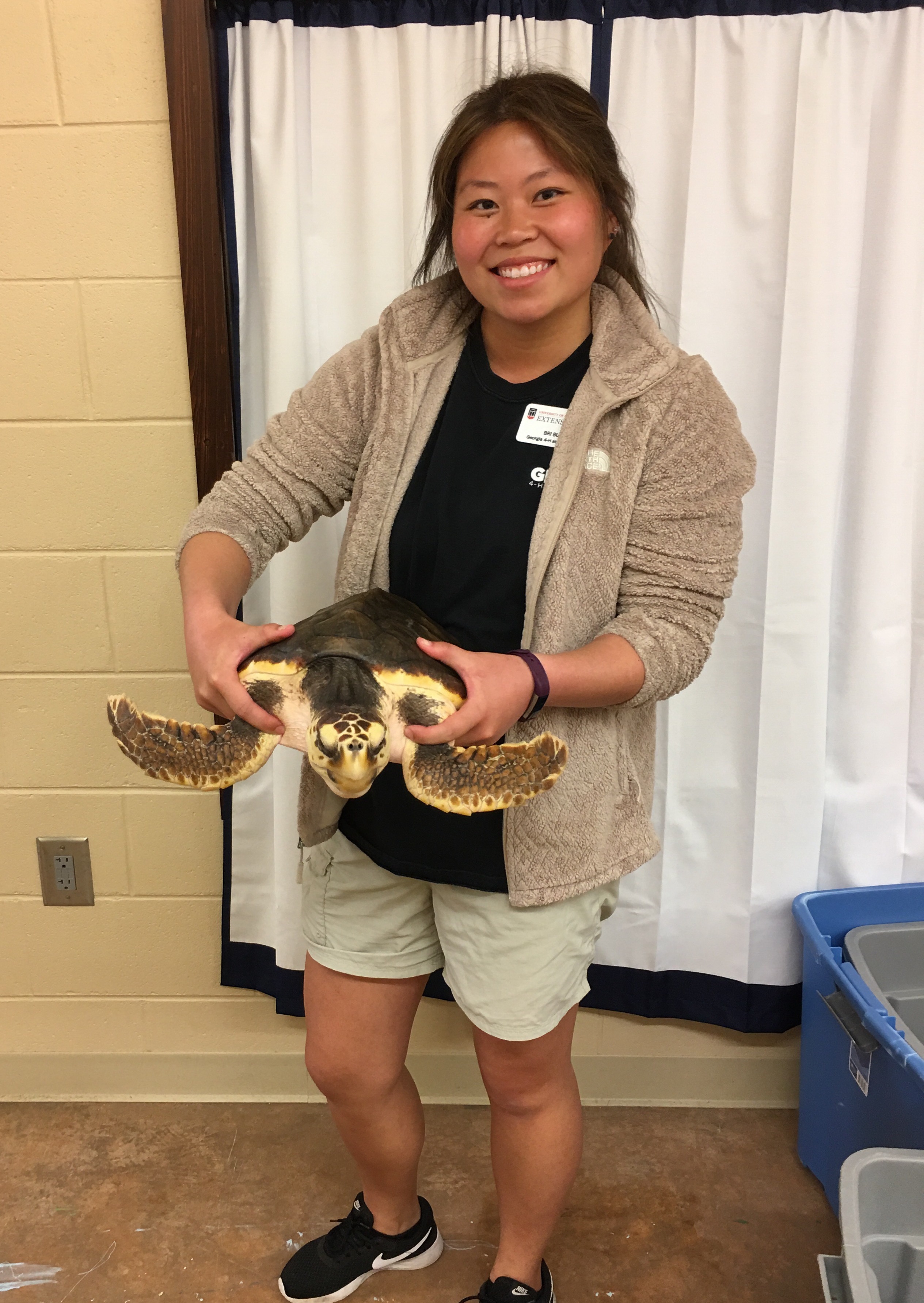 Bri Burris – Marine Educator (Loggerheads)
Bri Burris is from Winston-Salem, NC and attended the University of North Carolina Wilmington where she received her Bachelor of Science degree in Environmental Science, with a concentration in conservation, and a minor in sustainability. During college, Bri was actively involved in Plastic Ocean Project, Study Abroad Ambassadors, and Kappa Delta Sorority. Attending college by the coast offered many unique opportunities that helped foster Bri's passion for the conservation of coastal environments and the wildlife within them.
Bri's first involvement with sea turtles was in college monitoring for sea turtle nests on Figure Eight Island, NC. Prior to Sea Turtle Camp, Bri worked as an Environmental Educator at Camp Jekyll, a Georgia 4-H facility, on Jekyll Island, GA. During her time at Camp Jekyll, Bri was the caretaker of a two year-old Loggerhead sea turtle named Nicole and a touch tank containing various organisms such as: whelks, hermit crabs, a blue crab, an anemone, a juvenile horseshoe crab, and flounder. In her free time, Bri enjoys traveling, working on her photography, and playing beach volleyball!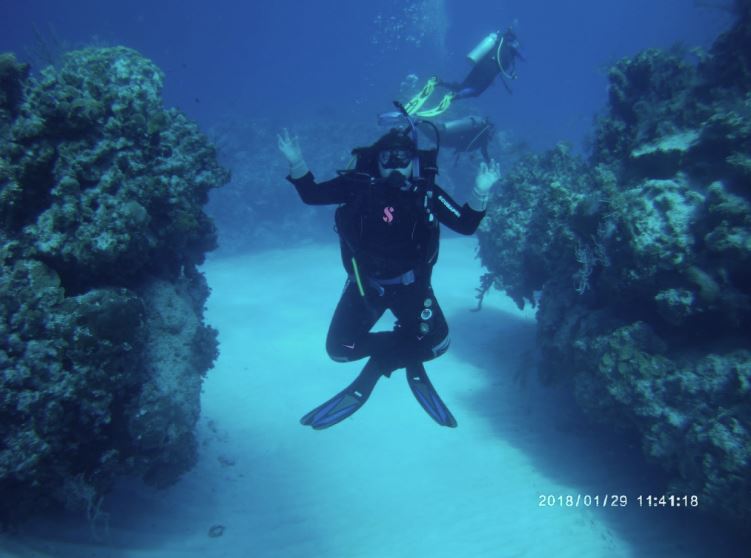 Ariel Plotnick – Marine Educator (Loggerheads)
Ariel is a junior at the University of Delaware studying Marine Science with a minor in Wildlife Conservation. Having been named after the Little Mermaid, she has always had a love for the ocean! In her attempts to become a real mermaid, she got certified as an open water scuba diver when she was 16. Ariel grew up going to sleepaway camp in southern Pennsylvania, always wanting to be a lifeguard when she was old enough. She spent 11 years at camp and was a lifeguard for the last two years and a counselor, spending all of her time on the water.
She has interned at the Maryland Chapter of the Sierra Club as an Invasive Species Intern where she got to help remove invasive species from local parks. While at UD she studied abroad in the Cayman Islands, studying coral reefs and scientific diving for a month. In her free time Ariel loves to read, scuba dive, and bake. She is so excited to combine her love of camp and the ocean and help inspire future marine scientists and scuba divers!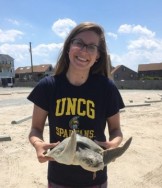 Leanne Murray – Unit Leader (Hawaii)
Before moving to North Carolina, Leanne lived on Long Island, New York where her love for the mysterious ocean began. She quickly realized she wanted to pursue a career involving marine conservation and wildlife rehabilitation, so she completed her Bachelor of Science in biology with a minor in chemistry from The University of North Carolina at Greensboro. In college, Leanne found her interest in sea turtles specifically. She was enrolled in a course that gave her the opportunity to volunteer at the Karen Beasley Sea Turtle Hospital and at the Sea Turtle Conservancy in Tortuguero, Costa Rica. Leanne also has various education experience as she helped plan and lead environmental education programs as an intern at her local library, volunteered as a docent at a nearby aquarium, and was a Sea Turtle Camp Unit Leader in summer 2018. During the year, Leanne works as a Marine Science Instructor at The Catalina Island Marine Institute off the coast of Southern California. She also enjoys spending time hiking, reading, and practicing her photography. In the future, Leanne hopes to further her education while continuing to educate and inspire others by sharing her passion for wildlife and the environment.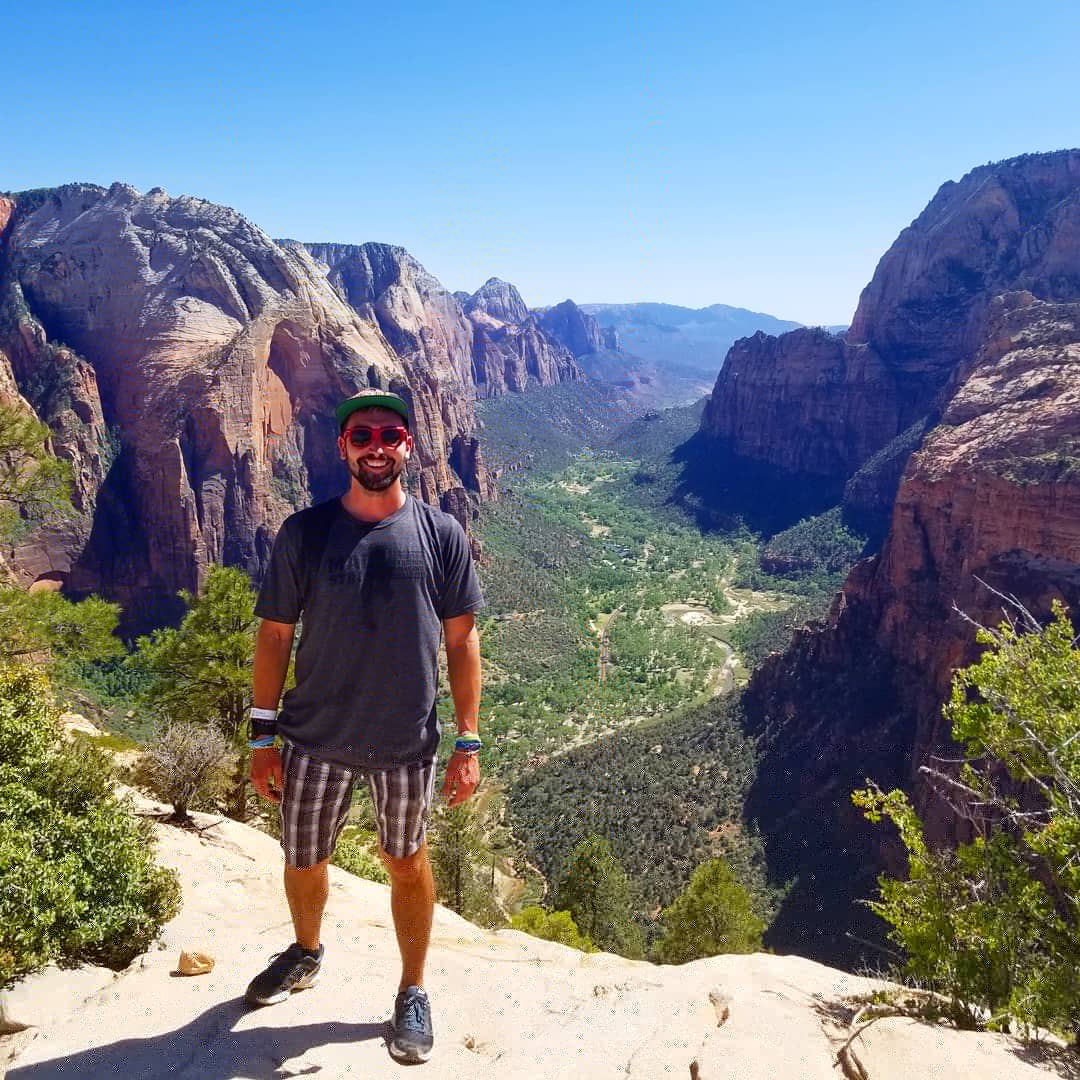 Eric Sliter – Trip Leader (Hawaii)
Eric hails from the landlocked state of Kentucky, where he grew up surrounded by the outdoors on the outskirts of Louisville. Contributing his love for the ocean to frequent beach vacations growing up, he realized that the sea was where he belonged. For the last 6 years he has traveled around the country and internationally to observe parks and ecosystems, working his passions. Hawai'i will be his 50th state visited!
He is an avid snorkeler as well as a NAUI Advanced and Rescue diver who has had the wonderful opportunity to dive in the Bahamas, Channel Islands, Florida Keys, Cozumel, and Similan Islands in Thailand.
He received his Bachelor degree in Bioengineering from the University of Louisville, focusing on biotech with renewable energy and sustainability. With work experience in renewable energy labs, sustainability driven resource research, and outdoor education in marine science he has been able to let his passion for sustainability and nature flourish and share it with others. Enjoying watching growth and inspiring others to care about the ocean, he has worked in the Florida Keys as a Unit Leader at Seacamp and has instructed marine science for Catalina Island Marine Institute. In his free time, Eric can be found snorkeling, hiking, reading a good book outdoors, playing video games, or getting excited about biology.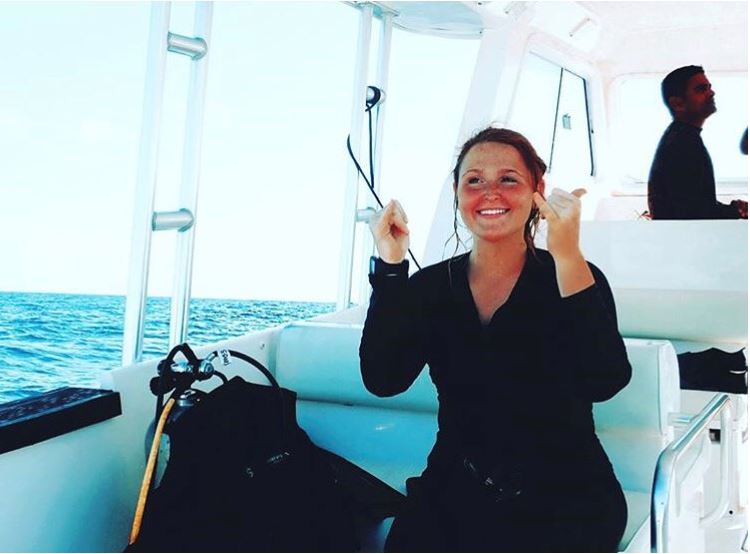 Jordan Boles – Trip Leader (Hawaii)
Meet Jordan, a second year Sea Turtle Camp counselor with a love for all things adventure and marine related! Jordan has just moved back from the Seychelles of Africa where she was working with Sea Turtles and professionally diving to work with the first electrified Coral Restoration project in the Indian Ocean. Jordan has worked with sea turtles through various marine conservation projects all around the world, but her true passion is advocacy and outreach for marine conservation organizations. Her favorite part of Sea Turtle Camp is working with the campers and watching them become excited about environmental conservation throughout their time at camp.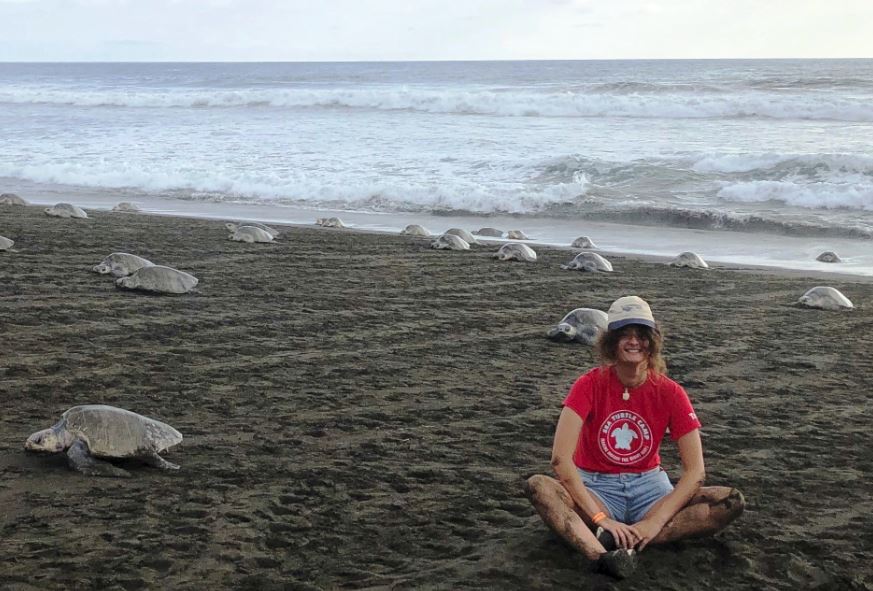 Olivia Loveday – Trip Leader (Costa Rica)
Olivia grew up in London (England) and has always been drawn to water and exploration. She's gone from sprint to synchronized swimming and fallen in love with scuba and freediving. In 2014, she decided to study Oceanography at the University of Southampton which has allowed her to get a better grasp of what goes on in our oceans. Along the way, she started contributing to sea turtle conservation around the world and is hooked! She's worked on research projects in Greece, Florida, and more recently Costa Rica with the Leatherback Trust where she spent 6 months tagging measuring and protecting nesting leatherback, olive ridley and black sea turtles. Last summer at Sea Turtle Camp, Olivia loved teaching teens about the marine environment and how to make a positive impact in the world. She is so excited to come back to Topsail Island to continue educating students about the beaches, salt marshes, and sea turtles on the East Coast – while catching a couple waves along the way!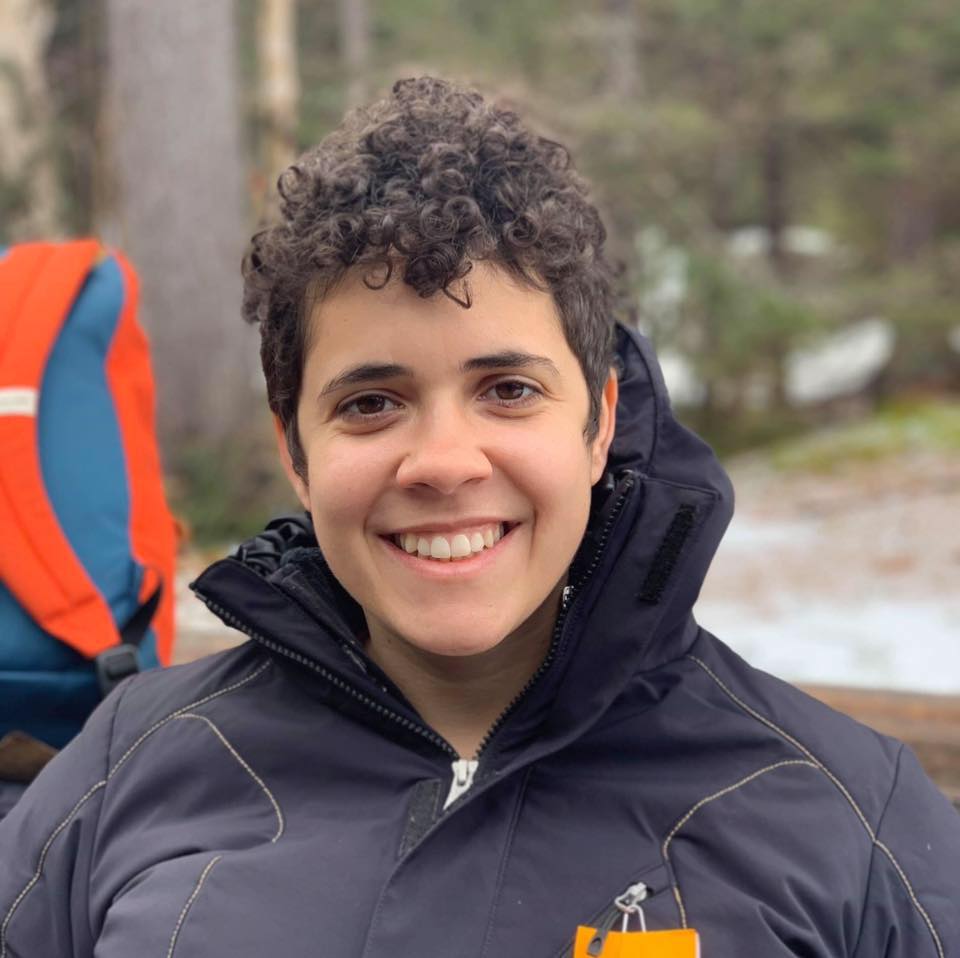 Renata Araujo – Trip Leader (Costa Rica)
Renata Araujo grew up in Sao Paulo, Brazil and in 2012 graduated with a degree in Biology at the University of Sao Paulo. During her undergraduate studies, she spent 6 months in Paraguay as an exchange student. She is currently studying Plant and Wildlife Ecology in Rexburg, Idaho, at the Brigham Young University (BYU). At BYU she was a Teaching Assistant in the Mesoamerica Tour in 2017, taking over 20 college students to Mexico and Belize in a 3-week study abroad program. She loves working with environmental education and with kids. She will spend her spring in the White Mountains, New Hampshire, and in Martha's Vineyard, Massachusetts, teaching environmental education. She is very excited for the warm weather of the summer and for being able to go to Costa Rica with amazing teens to have a life-changing experience!