Sea Turtle Camp Educators
The Sea Turtle Camp team is comprised of expert Marine Science educators and an administrative staff who bring with them professional experience, in-depth knowledge and a broad range of skill sets. Sea Turtle Camp counselors are passionate about marine biology and the study of coastal ecosystems, and they are excited to share this passion with curious campers who have also discovered the importance and wonder of this field.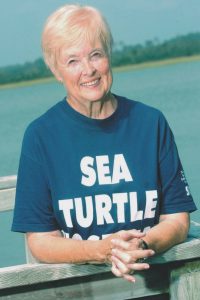 Employment at Sea Turtle Camp is extremely competitive. We examine hundreds of applications before selecting members of our elite team. All applicants must go through our intense three-part interview process and comprehensive background check. We take only the top candidates and are extremely proud to provide one of the greatest employment opportunities available among summer camps. Upon hiring, all counselors must attend our mandatory staff orientation prior to the start of each season. Required qualifications include American Red Cross certification in Lifeguarding, CPR and First Aid.
Our founder, Jen Civelli, plays a fundamental role in the hiring and training of each team member. Jen has worked as a chemistry instructor at Cape Fear Community College and UNC-Wilmington and has spent many years working with Jean Beasley at the Sea Turtle Hospital. She and her family continue to play a huge role in raising awareness and funds for this amazing organization.
Our mission statement of empowering youth to become independent, proactive stewards of the environment is deeply shared by our team. We are conscious of the fact that without the ocean there is no life on earth. We have dedicated our lives to educating campers about environmental conservation, living a lifestyle that is harmonious with this purpose, and exploring new ways of sharing our mission.
We are currently in the process of hiring for our 2017 season. In the meantime, please read about the highly qualified educators that join us for the summer.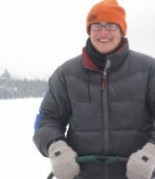 Liz Shirley, Program Coordinator
Liz has eleven years of experience in youth development and outdoor education. Her journey to a career as a camp professional began as a teen, when she participated in a 5-day canoe trip in the Boundary Waters Canoe Area, MN. During this backcountry wilderness trip, Liz developed a love for wild, open spaces, which are often in need of protection. This passion has only continued to grow through experiences which include working with residential summer camps, environmental education centers, and guiding canoe, kayak, and backpacking trips throughout the country. These opportunities instilled an enthusiasm for using intentional, experiential outdoor programming to create life-changing experiences for youth and adults. Prior to joining the Sea Turtle Camp team, Liz worked as a Camp Director for the Girl Scouts of the Colonial Coast and worked as Assistant Director for the AnBryce Foundation, where she led Camp Dogwood's trip & travel program and coordinated their mentoring program. She holds a Bachelor of Arts degree in English, with a minor in Leisure Services from Oklahoma State University. When not planning summer camp, Liz can be found cooking, reading, trail running, and exploring Eastern NC by foot, pack, and paddle.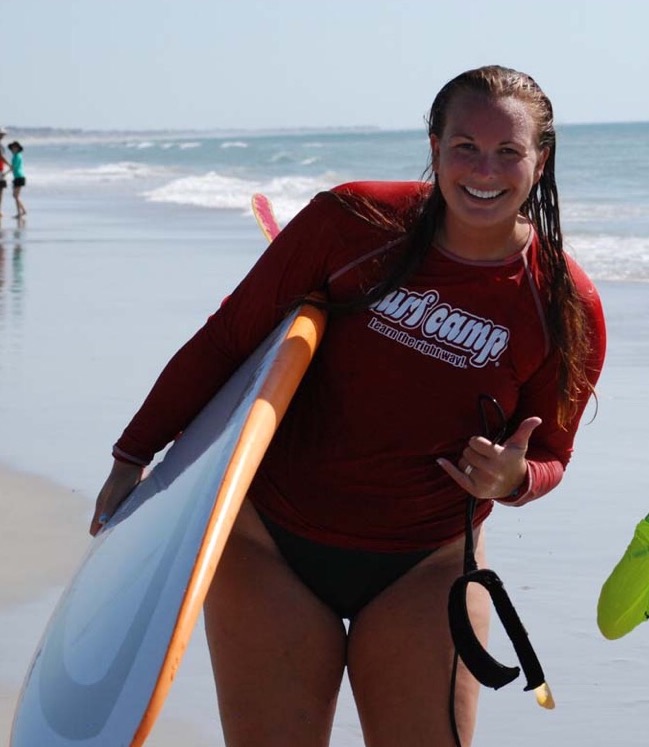 Taylor Ardis, Program Coordinator
Taylor took the path less traveled on her journey to North Carolina. Originally from Indiana, she spent the warm months as a child, catching frogs in the creek and swimming in Lake Maxinkuckee. This love for the water led to her fascination with the ocean which has continued throughout her entire life. There's a good chance Taylor had watched every ocean-related documentary in existence by the time she was a teenager. Taylor loved watching Shark Week with her dad every summer. It was when she headed to college that she really discovered and defined her passions for education and marine science. From 2011-2013 she was a camp counselor at Culver Military Academy's summer program – a residential camp focused on leadership development. It was here Taylor realized that experiential education was the career path she wanted to pursue. Before relocating from Indiana to North Carolina, Taylor spent a month in South Africa studying great white sharks in Mosselbaii alongside world-renowned shark biologist, Ryan Johnson. In 2014, she began her work with Sea Turtle Camp as a Marine Educator and was the 2016 Kids' Camp Director for our sister camp, WB Surf Camp. Taylor holds a degree in International Environmental Studies from UNCW and continues to feed her fascination with sharks as the Education Ambassador of North Carolina for OCEARCH, the global white shark tagging organization. When Taylor isn't on the beach or in the field, she's at the barn working with her two horses.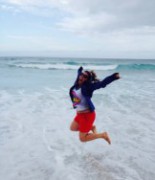 Wren Siegel, Team Director – Team Loggerheads
Wren has been a passionate advocate for the environment since she was an undergraduate and campaigned to preserve the isolated mountain ecosystem of Mt. Graham in Arizona; she also worked to save endangered Mexican Wolves. Wren kissed banana slugs in her first role as a naturalist in the redwoods of California, and has shared her love for the planet with thousands of youth ever since.
She spent several years guiding rafts down rivers including the American, the Colorado, the Green, and the San Juan, while sharing local knowledge and having tons of fun! Wren has had various jobs that integrate her love for the planet, including: educator at the Canyonlands Field Institute, environmental education coordinator for The Logan School for Creative Learning, and assistant director for the Christodora camp. Wren is proud of the 15 seasons she spent lead instructing and course directing for the Colorado Outward Bound School.
She earned her Masters in Education from the University of Denver and taught fourth and fifth grade for six years in Denver area public schools. Wren is an avid photographer, world traveler, and loves dark chocolate. Her dream of learning about marine biology is off to a fantastic start by joining the Sea Turtle Camp!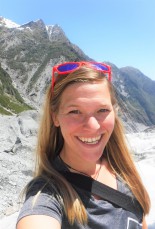 Megan Carr, Team Director – Team Leatherbacks
Megan was born and raised in Durham, NC and spent her childhood seeking adventures in nature, building outdoor forts, and playing in the creek in her yard. As a young adult, she attended Greensboro College for theater and dance, and then was drawn "out West". She spent three amazing summers at a camp in San Diego, providing surf instruction and outdoor education/leadership classes for campers and visiting schools.
Having returned to the Southeast, Megan now spends the school year teaching at George Watts Montessori Magnet School in Durham, NC where she is kept on her toes by a 1st-3rd grade combined class. She also coaches the women's field hockey team of her high school alma mater. In her spare time, she loves to hike, play with her dog Cali, and is developing enthusiasm for a new hobby–running! Megan is looking forward to spending the summer sharing her knowledge of the North Carolina coast and her love for marine life–especially sea turtles!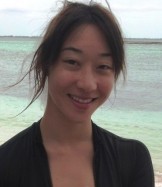 Katerina Zapfe, Team Director – Team SCUBA
Katerina is a born naturalist with a degree in Marine Science and minor in Plant Biology from NC State University. Her love for the natural world started early while growing up in the variable Minnesota climate. Numerous family trips to the Boundary Waters Canoe Area Wilderness yielded valuable lessons in planning, perseverance, and coexisting with nature. Soon after, snorkeling around Grand Cayman introduced her to the wonderful world of life below the waves. She was hooked and went on to fit study abroad trips to Costa Rica and the Bahamas into her undergraduate career. Experience with marine species at the Maritime Aquarium further emphasized the importance of marine science education and conservation. In her free time she enjoys combining her love for biology and fine art in the form of detailed biological illustrations, SCUBA diving and caring for her tropical pets. Katerina aspires to attend graduate school for marine science next fall and inspire others to develop their own passion for marine life through Sea Turtle Camp.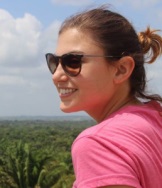 Adrienne Silver, Assistant Director – Team Loggerheads
Adrienne grew up in Bedford Massachusetts and spent her summers in Woods Hole Cape Code playing in the ocean. This is where she fell in love with marine biology. While in high school she taught classes at the Children's School of Science in which she lead squid dissections, facilitated snorkeling, and guided whale watches. At St. Mary's College of Maryland she pursued research in marine biology by studying artificial oyster reefs and by participating in a worldwide study looking at how climate change will affect phytoplankton populations. This summer she is looking forward to working with the Sea Turtle Hospital and inspiring kids to love the ocean.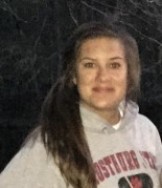 Kira Huber, Assistant Director – Team Leatherbacks
Kira grew up in Frederick, MD. Throughout her childhood, she went on family vacations to various beaches along the coasts of North Carolina and South Carolina. It was on these vacations that she fell in love with the ocean and the creatures in it. The love she gained for the ocean propelled her to study marine science in college. She graduated from the University of South Carolina with a B.S. in Marine Science with an area of emphasis in biological oceanography and a minor in Biology. She completed an internship for the North Central Environmental Day Camp in Kentucky where she taught environmental education to local youth. Kira has always had a passion for teaching youth and for marine science. She is excited to become a part of Sea Turtle Camp and to have the opportunity to inspire future marine biologists.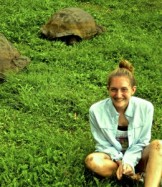 Jorie Heilman, Assistant Director – Team SCUBA
Jorie has been hooked on the ocean since age three when she snorkeled for the first time. Since then, she has pursued every possible ocean related opportunity including volunteering at the New England Aquarium, participating in a nationally ranked National Ocean Science Bowl team and sailing on a tall ship for part of a summer. When it came time to choose a college, she picked the only school on her list where she could study marine science and go scuba diving every weekend.
At the University of Miami, Jorie studied Marine Affairs and Sociology and acted as Equipment Manager of the SCUBA club for two years. She studied abroad in the Galapagos Islands as well as interning at the headquarters of the National Marine Fisheries Service in DC and working at two outdoor science camps. Currently, she lives on Catalina Island in California teaching at the Catalina Island Marine Institute. Jorie is really excited to dive into the unique ecosystems and wildlife of North Carolina and to work with inspiring young adults at Sea Turtle Camp this summer.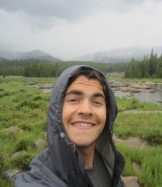 Brendan Elba, Marine Education Specialist – Team Loggerheads
Born and raised in Simsbury Connecticut, Brendan has always had an appreciation and passion for the outdoors. Staying engaged in activities from camping in Maine to snowboarding the peaks of Vermont, Brendan's desire to explore nature grew as he did. While working towards a degree in Ecosystem Science and Sustainability at Colorado State University, this desire for exploration grew into an awareness of the trouble our environment is in, and subsequently became an aspiration to help the environment through research, education and conservation.
After an eye opening study abroad trip to the Abaco Islands in The Bahamas, this aspiration was pointed towards the ocean. Brendan feels that our marine environment is the most fragile and complex system on the planet, and thus deserves the most advocacy. By spending the summer at Sea Turtle Camp, Brendan hopes to inspire campers by spreading his enthusiasm and passion for marine conservation in an exciting and fun way, while also expanding his own knowledge about Sea Turtles, surfing and the North Carolina coast.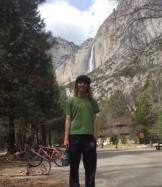 Austen Anderson, Marine Education Specialist – Team Leatherbacks
Austen grew up in Deer Park, TX. Growing up in the city he began to really appreciate nature and it grew greater each year. He escaped the big city life by taking spontaneous trips down the gulf coast of Texas chasing waves and exploring coastal habitats. By discovering different marine habitats and environments he developed a love for marine biology. He then pursued this field of work academically and as a career by attending Texas A&M University at Galveston. There he earned a BA in Marine Biology along with this degree he became experienced in marine ecology, coastal ornithology, and wildlife conservation. His goal while working this summer as a Marine Educator for the Sea Turtle Camp is to give back to the youth, to inspire campers to follow their dreams, to enjoy the small things and to connect with wildlife by applying scientific methods.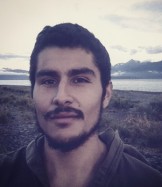 Gerardo Amador, Marine Education Specialist – Team SCUBA
Gerardo grew up in the desert border town of El Paso, TX. Yes, what a massive leap of Desert to Ocean. He obtained his BA of Marine Biology at Texas A&M Galveston and has a very strong background in SCUBA with dive master training, and is also an AAUS scientific diver. He has a great deal of experience in a variety of diving conditions, open ocean, coral reefs with NOAA at the Flower Garden Banks 100 miles off the Gulf Coast, claustrophobic cavern dives and extremely low visibility highly turbid water dives. He has also worked as a biologist on commercial fishing vessels in the tempestuous waters of Alaska. His greatest passion in this world is the conservation of the earths natural resources.
With sights set on eventually entering graduate school, he truly feels that kindling a passion for science in young minds is a necessary step in his own progression through the scientific journey. The ocean is truly home for this individual and he is ecstatic to be working with Sea Turtle camp.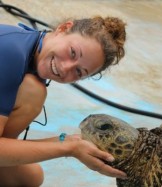 Zoey Best, Trip Leader – Hawaii
Born and raised on an exotic animal farm in Durham, North Carolina, Zoey has always had a passion for animals. Growing up she spent most of her summers in Carolina Beach, where she developed a comparable love for the ocean. She completed her B.S. in biology with a concentration in animal behavior from Duke University in 2012, before combining her interests and pursuing marine biology. She took an internship at the Sea Life Park of Hawaii, where she gained hands on experience caring for sea turtles, sharks, stingrays, and reef fish.
Although she loved the opportunity to work with marine animals on a day-to-day basis, she still wanted to learn more. She began her M.S. with Nova Southeastern University in 2014, where she also joined the Broward County Sea Turtle Conservation Program. She is now in the process of completing her thesis on the effects of climate change on the nesting patterns of sea turtles on South Florida beaches. In her spare time Zoey loves dancing, singing, playing her ukulele, scuba diving, listening to her brothers tell jokes, and finding new and exciting ways to annoy her cat.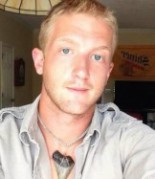 Richard Huse, Trip Leader – Hawaii
Richard was always destined for marine science. As a toddler he wore a lifejacket at all times, even around the house, because his parents knew exactly where he'd go as soon as they looked away. He grew up surfing, scuba diving, wake boarding, kiteboarding, sailing tall ships, whatever he could do to get out on the water. Naturally he fell in love with UNC Wilmington and decided to continue his interest in Marine Science and Aquaculture there. After graduation, Richard joined a team taking preliminary reef assessments of several reefs off the Cuban coast just before the embargo was lifted to gauge tourism's effect. He then returned to Wilmington to work with Sea Turtle SCUBA camp for the second year in a row before leaving for Louisiana to be placed on a dive team in charge of the fifth year ecological assessment of the Deep Water Horizon spill. Upon return, he started Atlantic Biotechnology, a company that cultures zooplankton for bioremediation in recirculating aquaculture systems and has recently been awarded the 2016 Coastal Entrepreneur of the year in the field of Biotechnology. Fortunately he is able to step away to lead our Hawaii Sea Turtle Adventure session to fulfill his real passion of keeping the next generation as excited about marine biology as he is.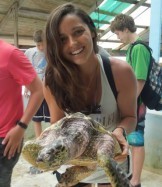 Sara Buckley, Trip Leader – Hawaii
Sara is returning for her second summer working with Sea Turtle Camp. After graduating from UNC Wilmington with a degree in Oceanography, Sara served as the Program Coordinator for our 2015 summer season. Sara has been working at the CIEE Research Station in Bonaire as a Lab Technician and assistant teaching Advanced SCUBA classes since September 2015.
Prior to her work with Sea Turtle Camp, Sara spent three summers with Broadreach serving in a variety of camp roles including Logistics Coordinator and SCUBA Dive Instructor. While still teaching in Bonaire, Sara is excited to have the opportunity to spend two weeks this summer leading our Hawaii Sea Turtle Camp Adventure in July.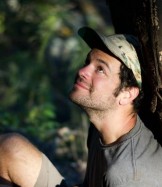 Jonah Carpenter, Trip Leader – Costa Rica
Jonah grew up in the desert of Arizona and the temperate rainforest of Oregon before coming out to North Carolina to finish high school. In North Carolina Jonah went to Appalachian State for two years before transferring to Chapel Hill to complete his studies. After his undergraduate work Jonah left the country for almost two years exploring various organic farms in Australia and a radical reforestation project in Haiti. Upon returning from his adventures abroad, Jonah went out west to explore the national parks and work for a wilderness therapy organization. Wilderness therapy was Jonah's first opportunity to teach wilderness skills and share his love for the outdoors to next generations. After settling in a small fishing village in the Puget Sound, Jonah came back out to Wilmington to pursue further studies in science and outdoor education possibilities with a keen interest in marine mammals. While at The University of North Carolina Wilmington Jonah has been involved with various projects to bring awareness to the fragile ecosystem that is the ocean, lead outdoor adventure trips, held officer positions for the rock climbing club, completed an honors thesis, and currently works in a genetics lab as a project manager. Jonah is eager to share his curiosity about biological systems, the complex web of interactions in which we all live, and sea turtles!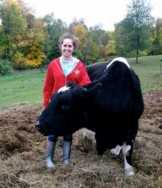 Chandler Atkinson, Trip Leader – Costa Rica
Chandler grew up in Western Massachusetts where she initially learned to love the forest and all it's creatures. In High School, her passion for marine biology led her to Seacamp where she swam with a sea turtle for the first time and became passionate about conservation of the ocean's resources. With her friend Catie, Chandler started the Shark Conservation Education Project which gave presentations to local classes and community groups about shark conservation and preserving the oceans. She was also a Junior intern at the Marine Environmental Research Institute where she did sample collection and species identification as part of the NaGisa Census of Marine Life.
While in college at Oberlin, Chandler taught first and second graders about the environment with Eastwood Outdoor Classroom, and took on the position of Education Coordinator for the Oberlin Student Cooperative Association. At Oberlin, Chandler also discovered her deep love of Cows and other farm animals, which led her to volunteer at SASHA Farm Animal Sanctuary in Michigan and later at Sunny Meadows Sanctuary in Massachusetts. In 2014, Chandler was a Trip Leader for Camp Dogwood Summer Academy where she led groups of high school students on two-week outdoor programs, teaching survival and leadership skills, culminating in a four-day hike through Shenandoah National Park. Currently, Chandler lives in New York City and works at a non-profit that seeks to ensure an Equal Say and an Equal Chance for all people. She is excited to share her passion for ocean conservation.